Hong Kong: Detention of pro-democracy activists during China visit must be investigated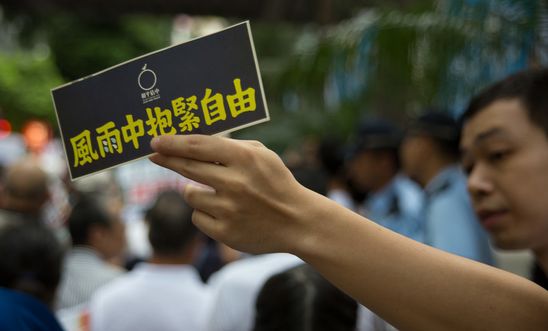 Hong Kong pro-democracy march, July 2014 © Amnesty International
In response to reports that two members of Hong Kong pro-democracy party Demosistō were detained and interrogated by Chinese state security officials when visiting mainland China in separate incidents in March and August, Joyce Chiang, Director of Amnesty International Hong Kong, said:
"This is a chilling attempt by state security officials in mainland China to silence Hong Kong activists and stop them from participating in civil society organisations. Individuals should not have to live in fear of being detained and tortured when visiting mainland China simply for peacefully exercising their rights in Hong Kong.
"The Hong Kong authorities now need to show they are prepared to defend Hong Kong's freedom of expression and freedom of association in the face of pressure from the mainland government, including for those who are critical of the government.
"The Hong Kong government must be unequivocal in calling for an investigation into these serious allegations. Any failure to do so would lead to the further erosion of the rights to freedom of expression and association in Hong Kong."
Pro-democracy party Demosistō
Hong Kong pro-democracy party Demosistō, co-founded by Joshua Wong, claimed in a 27 August press conference that two of its members were detained by state security agents in mainland China in separate incidents in March and August, and interrogated on their participation in the Demosistō party, as well as the Umbrella Movement and other protests.
Demosistō alleges that the individuals were interrogated for several hours before being released. The individual detained in August is said to have been kept in an unofficial detention facility, which increases the risk of torture and other ill-treatment. 
State security staff asked both individuals to disclose names of Demosistō's members and staff and continued to call one of them for further information about Demosistō after their return to Hong Kong. The individual detained in August left the party after the detention due to security concerns.
Torture and other ill-treatment in China is prevalent especially during pre-trial detention. It is frequently carried out by prison or police officials in detention centres and unofficial facilities, such as hotels, that are used for the purposes of detention.
The UK must protect human rights defenders at risk
Human rights defenders across the world are coming under increasing attack. At least 3,500 human rights defenders have been killed since 1998 – an average of 180 deaths a year. Governments around the world must do more to protect the people who are putting their lives at risk to fight human rights abuses around the world, said Amnesty.
Kate Allen, Director of Amnesty International UK, said:
"The level of danger facing activists worldwide has reached crisis point. Every day people are threatened, tortured, imprisoned and killed for what they fight for, believe in or simply for who they are.
"The protection of human rights defenders must be put at the heart of the Foreign Secretary's vision of 'Global Britain' if the UK is to be a credible voice on human rights post Brexit. Now is the time to act and prioritse tackling the global surge in repression of human rights defenders."