Home Secretary handed 100,000-strong petition demanding end to indefinite immigration detention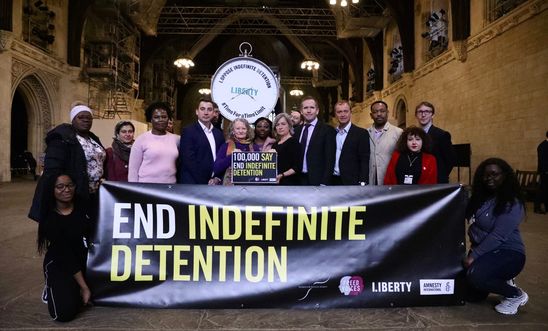 Cross-party support from MPs including Harriet Harman and Andrew Mitchell © Amnesty International UK / Marie-Ann Ventoura
Amnesty International UK, Liberty, Women for Refugee Women and Freed Voices call for immediate end to indefinite detention
Cross-party support from MPs including Harriet Harman, Andrew Mitchell and Tim Farron (photos available)
"Detention is another form of torture. You think you've escaped it in your home country but then you get here and you go to more" – Adele, former Yarl's Wood detainee
The UK must end its unacceptable and inhumane practice of indefinitely detaining people in immigration removal centres and radically reduce the number of people it locks up, Amnesty International, Liberty, Women for Refugee Women and Freed Voices said today.
The four campaign groups today handed in a 100,000-signature petition to the Home Office, coordinated by Liberty, Amnesty International UK and the Asylum Justice Project, for an immediate end to indefinite detention.
Ahead of the hand in, MPs Harriet Harman, Andrew Mitchell, Tim Farron, Stuart McDonald and other senior MPs from across Westminster were photographed together in Parliament to show their support for the campaign.
Sam Grant, Policy and Campaigns Manager, Liberty, said:
"The voices calling for an end to indefinite immigration detention grow stronger every day, both inside and outside of Parliament. Yet the Government is still locking up tens of thousands of people without telling them how long they will be held or when they will be released.
"People's lives are being wasted, communities damaged and families separated in the name of this costly, failing system. We need urgent action, a move to more effective and humane alternatives and a time limit on detention at the earliest opportunity."
Steve Valdez-Symonds, Amnesty's Refugee and Migrant Rights Programme Director, said:
"Today thousands of people showed their outrage at the wide, excessive and routine use of detention in our country.
"The message is clear - the UK's immigration detention system is in urgent need of fundamental change and it's high time for Parliament to step in and legislate.
"Indefinite detention causes inexcusable levels of suffering and it is a matter of profound shame that the UK's immigration system has and continues to subject so many people to it. Indefinite detention must end."
Natasha Walter, Director of Women for Refugee Women, says:
"There have been enough promises and reviews from the Home Office. It is now time for the government to ensure that women who have already been through human rights abuses are not exposed to further trauma by being detained. It is time to end the detention of vulnerable women at Yarl's Wood and move away from detention altogether."
Mishka* from Freed Voices:
"It is time for radical detention reform, the introduction of a 28-day time limit, and a great reduction of the UK's detention estate by implementing alternatives to detention.
"In 2018, 24,748 people were put into immigration detention. There are eight long-term detention centres in the UK. Some people are also held in indefinite immigration detention in prisons."
Testimonies from detainees
Miguel*, who had been held in detention for two and half years before being released, told Amnesty International:
"At times I felt so bad, to be honest I thought to myself I'll just give up. But then, if I didn't have my son I probably would have ended up committing suicide, killing myself, which I did try, I did try committing suicide on three occasions. Because, I had no hope you know."
Women for Refugee Women received testimonies from ex-detainees at Yarl's Wood detention centre, all of whom are survivors of sexual or gender-based violence.
Adele said: "Detention is another form of torture. You think you've escaped it in your home country but then you get here and you go to more."
Jane said: "I am traumatised by the memory of Yarl's Wood. It was such a horrible experience and even though I left about six months ago I still have nightmares about being taken back. It's like you are haunted by Yarl's Wood."
Gabby said: "I feel angry that the Home Office has said that they aren't going to detain women who have been raped and trafficked, but then don't even try to find out about what women have been through before they lock them up."
Call for reforms to the immigration detention system
In addition to an immediate end to indefinite immigration detention, Amnesty, Liberty, Women for Refugee Women and Freed Voices are calling for reforms including:
automatic universal judicial oversight of detention decisions;

the reintroduction of legal aid to help people to resolve their immigration cases;

and the closure of more immigration removal centres (detention centres).
ENDS
Notes to editors
- Amnesty International is the world's leading human rights organisation with more than seven million supporters worldwide
- Liberty, also known as the National Council for Civil Liberties, campaigns for civil liberties and human rights in the UK. 
- Women for Refugee Women is a grass-roots organisation dedicated to challenging the the injustices experienced by women who seek asylum in the UK.
- Freed Voices are a group of experts-by-experience committed to speaking out about the realities of immigration detention in the UK. Between them, they have lost over 20 years to detention in the UK.
- *Names have been changed for confidentiality reasons
- The petition handed in to the Home Office was made up of 100,000 signatures gathered from separate petitions by Amnesty and Liberty.