Hate crime in the UK: Police need more training, says Amnesty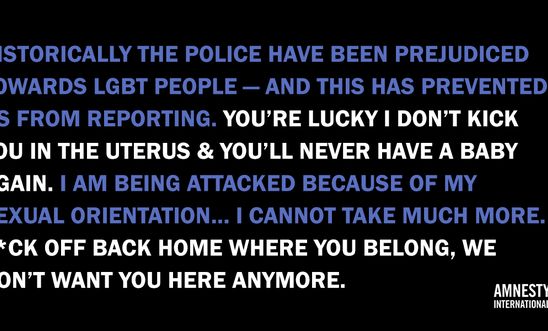 Amnesty International is today calling for improved training for police into how to deal with hate crime and for a review of the hate crime legal framework as it publishes a new briefing 'Against Hate: Tackling hate crime in the UK'.
The briefing, produced following a study by the University of Leicester, is a review of existing legislation and case studies from victims of hate crime, and is being published on the one-year anniversary of the European Union Referendum vote.
It highlights a 42 per cent rise in hate crime in the two weeks either side of last year's referendum, mainly against members of minority ethnic and faith communities, new migrants, asylum seekers and refugees.
The research showed that many hate crime victims are not reporting abuse, and the training of police officers across the country is inconsistent, leaving some ill-prepared in identifying and investigating cases, and therefore leading to a low conviction rate. 
The report includes case studies of disturbing hate crime based on disability, race, religion, sexual orientation, and transgender identity – plus sectarian-motivated hate crimes in Northern Ireland.
Kate Allen, Director of Amnesty UK, said:
"The rise of hate crime in the UK is of significant concern for a number of reasons – and the time is now to put a stop to it. This is a problem that is both under-reported and under-resourced.

"Every year hundreds of thousands of people in the United Kingdom are attacked and harassed – physically or verbally – because they are perceived as 'different'.

"All people of all identities should be able to go about their lives in peace, without the fear of being abused or harassed by those who seek to sow hatred and division.

"In recent weeks, attacks in London and Manchester have attempted to undermine the very fabric of our society. In their wake, we have seen reports of a rise in demonising language and dangerous comments that can cause real harm to real people. Now, more than ever, we must stand together against this hatred.
"We are now calling for police to receive increased training in how to respond to hate crime and support victims, for more resources to assist investigation and prosecution, and for more awareness in how victims can report hate crimes."
Case studies include:
Hanane, a Muslim woman in London who suffered anti-Muslim abuse on the bus while pregnant, accused of being a terrorist and threated with violence. She said: "I am finding it difficult to sleep at night and every time I go out I am afraid."
Grace, an Asian woman who suffered racist abuse online from her partner's former friends, but was told by police that the comments "were not really racist…only immature men who were joking."
Monique, a mother from Ghana who settled in the West Midlands with her family but suffered racist abuse following the EU Referendum as her children were told they were going to be deported.
Bailey, a 13-year-old from Belfast, who was assaulted and suffered sectarian abuse. He said: "It makes me feel annoyed that I can't go somewhere without being attacked because of my religion."
Cathleen, a transgender woman from Edinburgh, who was verbally abused on a bus. She said: "Historically the police and other authorities have been prejudiced towards LGBT people and this has prevented LGBT people from reporting."
David, a gay man from East London, who was assaulted in a homophobic attack because he was holding hands with his partner. He said: "Since being physically attacked, I feel so much more self-conscious about holding my partner's hand or being affectionate."
Michael, a 61-year-old from Belfast who has a muscle-wasting disease and was verbally abused because of his disability. He said: "It was torture and I just didn't understand why they were doing it."
The study also highlighted that between 2012 and 2015, only 52 per cent of hate crime victims in England and Wales were satisfied with the police response in terms of fairness and effectiveness, much lower when compared to 73 per cent of general crime victims.
Kate Allen added:
"We have had concerns for some time that toxic rhetoric from prominent figures can have serious consequences on the streets of Britain.

"Last summer, there was a worrying use of divisive language that demonised sections of the population and sent the harmful message that some people are more entitled to human rights than others.

"The language used by politicians, social commentators and sections of the media can have very real consequences for people, and we are reminding them of the need to be careful with what they say and what they do in this ongoing era of political upheaval."
At Amnesty's AGM earlier this year, Brendan Cox, husband of murdered MP Jo Cox, said: "The threat of rising far-right extremism is real and it isn't going to go away quickly. But with resolution, a concerted attempt to reach out and a focus on building closer communities we can and we will defeat it."
Following the publication of the briefing, Amnesty is calling for:
An extensive review of the UK's hate crime legal framework to assess whether the current system meets the needs of victims.
All police officers to receive adequate training to correctly identify hate crime, respond to victims and support them appropriately.
Resources for police forces and local governments to support frontline practitioners to establish and continue meaningful dialogue with different communities.
Public officials to speak out against and challenge negative stereotypes of particular groups and mobilise public opinion against discrimination on any grounds.
Developed training packages to improve police officers' knowledge of online hate crime and their confidence in dealing with this form of crime.
Extending the list of protected characteristics across the UK to include, as a minimum, gender, socio-economic status and age; and all characteristics should have equal legal protection.