Hamas committed multiple war crimes with 'indiscriminate' rockets and mortars - new report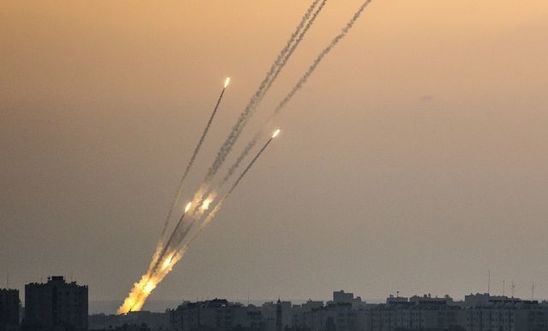 Rockets being fired from the Gaza Strip into Israel last July © JACK GUEZ/AFP/Getty Images
The 'circle of fear has widened' in Israel
One Palestinian rocket killed 13 Palestinian civilians in Gaza itself
Amnesty UK Director Kate Allen in Israel to meet UK ambassador Matthew Gould ahead of Palestinian ICC accession
Palestinian armed groups displayed a "flagrant disregard" for the lives of civilians by repeatedly launching indiscriminate rockets and mortars towards civilian areas in Israel during the conflict last July and August, said Amnesty International in a new report published today (26 March).
The 64-page report, Unlawful and deadly: Rocket and mortar attacks by Palestinian armed groups during the 2014 Gaza/Israel conflict, provides evidence that several attacks launched from inside the Gaza Strip amount to war crimes. Six civilians in Israel, including a four-year-old boy, were killed during the 50-day conflict. In the deadliest incident believed to have been caused by a Palestinian attack, 11 children were among 13 Palestinian civilians killed when a projectile fired from within Gaza landed in the al-Shati refugee camp in Gaza City.
All the rockets used by Palestinian armed groups - including the long-range M-75, Fajr 5, J-80, M-302 (up to 100 miles) and R-160 (also up to 100 miles) - are unguided projectiles which cannot be accurately directed at specific targets and are inherently indiscriminate. Their inaccuracy increases at longer distances and some of them could land as far as one or two miles away from a supposed target. The majority of Israel's 8.3 million people are within range of the newer long-range rockets possessed by Palestinian armed groups, and Amnesty's report points out that as a result the "circle of fear has widened" in Israel.
Mortars are also imprecise munitions and should never be used to attack military targets located in or near civilian areas. According to UN data, more than 4,800 rockets and 1,700 mortars were fired from Gaza towards Israel during the conflict - an average of 98 rockets and 35 mortars per day. Out of the thousands of rockets and mortars fired, around 224 are estimated to have struck Israeli residential areas. Israel's Iron Dome missile defence system intercepted many others.
Meanwhile, at least 1,585 Palestinian civilians - including more than 530 children - were killed in Gaza, and at least 16,245 homes were destroyed or rendered uninhabitable by Israeli attacks during the conflict, some of which also amounted to war crimes.
Amnesty International Middle East and North Africa Director Philip Luther said:
"Palestinian armed groups, including the armed wing of Hamas, repeatedly launched unlawful attacks during the conflict.

"In launching these attacks, they displayed a flagrant disregard for international humanitarian law and for the consequences of their violations on civilians in both Israel and the Gaza Strip.

"The devastating impact of Israeli attacks on Palestinian civilians during the conflict is undeniable, but violations by one side in a conflict can never justify violations by their opponents."
Four-year-old Daniel Tregerman
The death of four-year-old Daniel Tregerman on 22 August clearly illustrates the tragic consequences of using imprecise weapons such as mortars on civilian areas. His family had fled their home in Kibbutz Nahal Oz because of the fighting but returned the day before he was killed. Moments after alarm sirens went off, a mortar launched in Gaza by Hamas' military wing, the al-Qassam Brigades, struck the family car parked outside the house. Daniel's mother, Gila Tregerman, told Amnesty:
"My husband and son were in the living room and I was yelling for them to come into the shelter. Shrapnel [from the mortar] entered Daniel's head, killing him immediately."
Other civilians killed by attacks launched in Gaza included an agricultural worker from Thailand, Narakorn Kittiyangkul, who was killed when a mortar struck the tomato farm in southern Israel where he was working. Meanwhile, Ze'ev Etzion and Shahar Melamed were killed in a mortar attack on Kibbutz Nirim on 26 August, while Ouda Jumi'an al-Waj was killed by a rocket that struck the Bedouin village of Qasr al-Sir near the Israeli city of Dimona on 19 July. Most Bedouin villages (amounting to over 100,000 inhabitants) in southern Israel are classified as non-residential "open areas" by the Israeli authorities, with the Iron Dome system not operating in these areas and no bomb shelters provided.
Al-Shati refugee camp in Gaza City
In the deadliest incident believed to have been caused by a Palestinian armed group during the conflict, 13 Palestinian civilians - 11 of them children, aged between seven and 14 - were killed when a projectile exploded next to a supermarket in the crowded al-Shati refugee camp in Gaza City on 28 July, the first day of Eid. The children had been playing in the street at the time of the attack. Mahmoud Abu Shaqfa and his five-year-old son Khaled were seriously wounded and his eight-year-old son Muhammad was killed. Mahmoud said:
"The rocket fell near the car … The whole car was pierced by shrapnel. A piece of shrapnel pierced me ... My son [Khaled] came to me. He was screaming 'Daddy get up, get up…' My entire leg was torn open and my arm had been wrenched to my back."
Although Palestinians have claimed that the Israeli military was responsible for the attack, an independent munitions expert who examined the available evidence on behalf of Amnesty concluded that the projectile used in the attack was a Palestinian rocket. There are no bomb shelters or warning systems in place to protect civilians in Gaza.
Philip Luther added:
"Evidence suggesting that a rocket launched by a Palestinian armed group may have caused 13 civilian deaths inside Gaza just underscores how indiscriminate these weapons can be and the dreadful consequences of using them."
Amnesty's report also details other violations of international humanitarian law by Palestinian armed groups during the conflict, such as storing rockets and other munitions in civilian  buildings, including UN schools, and cases where armed groups launched attacks or stored munitions very near locations where hundreds of displaced civilians were taking shelter.
Amnesty UK's Israel visit
As part of the report's launch Amnesty International UK Director Kate Allen is in Israel this week and is meeting the UK Ambassador to Israel, Matthew Gould, on the day of the report's launch. Kate Allen said:
"I'm grateful to Matthew Gould for meeting me today and what I'm keen to impress on him is that the UK needs to become an outspoken champion for credible justice in this bitter conflict.

"Decades of violence have now produced thousands of victims - we want to see the UK supporting a full International Criminal Court investigation into human rights abuses by all parties to this terrible conflict.

"The International Criminal Court is the last best chance for justice for both Israeli and Palestinian civilians and we need to see the UK being a strong advocate of the ICC."