Guantánamo: hundreds to protest outside White House as camp reaches 18th year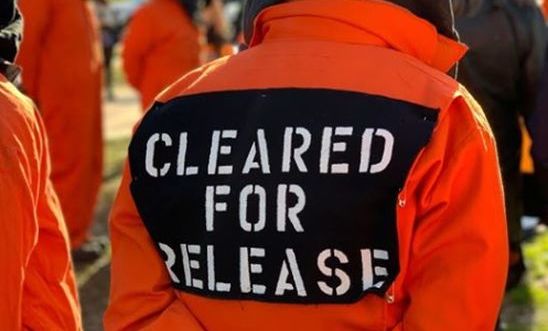 Some detainees at the camp have long since been 'cleared for release' © Amnesty USA
Tomorrow's protest will see activists wearing orange jumpsuits and black hoods
A 'funeral procession' will carry nine coffins between White House and Washington's Trump hotel to symbolise nine Guantánamo detainees who have died at camp
Amnesty International USA and a dozen other human rights organisations will stage a protest outside the White House in Washington DC tomorrow on the 18th anniversary of detainees first being taken to the notorious US military detention centre at Guantánamo Bay in 2002.
After a rally in Lafayette Park, activists wearing orange jumpsuits and black hoods will march in a symbolic funeral procession from the White House to the city's Trump Hotel (event will begin at 1pm ET and end at 3pm: Facebook invitation details here).
Nine coffins will be carried on the procession to draw attention to the nine detainees who have died at the detention centre. 
Guantánamo - which remains open indefinitely after an executive order signed by President Trump - currently holds 40 men. Several detainees are experiencing serious health problems as a result of years of detention, as well as torture and other ill-treatment.
Some of the Guantánamo detainees have long since been cleared for transfer to other locations, including the Saudi Arabian national Toffiq al-Bihani, who has been held without trial for eight years. Amnesty USA has been calling for al-Bihani's release and at tomorrow's event activists will distribute appeals about his case to members of the public, encouraging them to send these to the US Defense Department. 
Daphne Eviatar, Director of Amnesty International USA's Security With Human Rights programme, who will be speaking at tomorrow's event, said: 
"Three United States presidents have overseen Guantánamo during its shameful 18-year existence.

"It is well past time that Guantánamo close once and for all, and all the men who have long ago been cleared for release are transferred to countries that have agreed to accept them."
Event details
What: Close Guantánamo protest 
 
When: Saturday 11 January 2020 (1- 3pm, ET)
Where: protest beginning at Lafayette Park, The White House, 1600 Pennsylvania Avenue, Washington DC 20500 - concluding at Trump Hotel
Who: Amnesty International USA, CAIR, Center for Constitutional Rights, Close Guantanamo, CODEPINK: Women for Peace, Defending Rights & Dissent, Justice for Muslims Collective, National Religious Campaign Against Torture, September 11th Families for Peaceful Tomorrows, The World Can't Wait, Tsuru for Solidarity, and Witness Against Torture.