Greece: Illegal detention of asylum seekers in new EU-funded camp is 'gross abuse'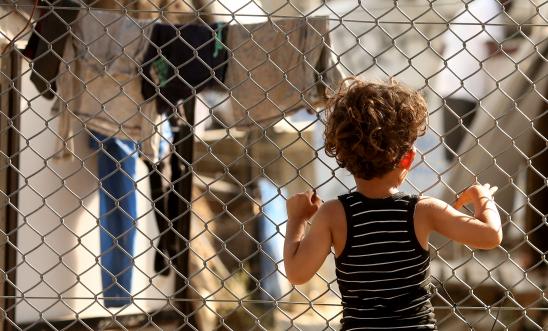 A refugee child looks through a fence at the Moria refugee camp on May 20, 2018 in Mytilene, Greece © 2018 Getty Images
New EU-funded 'closed-controlled centre' constructed on island of Samos
Many in camps forced to live in containers, unable to leave the facility and deprived of financial assistance and food
'This camp more closely resembles a prison than a place to house people seeking safety' - Adriana Tidona
People seeking asylum who are being held in a new EU-funded refugee camp on the Greek island of Samos are being detained illegally by the Greek authorities, Amnesty International said today.
The recently opened "closed-controlled centre" - known by the Greek initials KEDN - has been constructed in an isolated spot nearly four miles from the island's main city, Vathi. 
The prison-like facility can hold up to 3,000 people and is equipped with various containment and surveillance mechanisms - including double barbed-wire metal fencing, CCTV, and the 24/7 presence of patrolling police officers and privately-contracted security guards.  
Since 17 November, those without Government-issued IDs are indefinitely barred from leaving the camp, and this restriction also applies to individuals who have had cards withdrawn as a result of unsuccessful asylum applications or newcomers yet to be issued with a card. 
According to unofficial estimates, around 100 of the approximately 450 people currently being held in the camp have been prevented from leaving the premises for the past two weeks, in violation of their right to liberty. Movements in and out of the camp - which are only allowed between 8am and 8pm - are subject to security checks, and take place via magnetic gates.
Amnesty has repeatedly expressed concerns about Greece's replacement of open camps for those seeking asylum in the country with "closed controlled centres", questioning how the policy can be reconciled with human rights standards on the deprivation of liberty. Under international and EU law, people seeking asylum should only be detained as a matter of last resort, after a detailed examination of their individual circumstances, for the shortest time possible and under a procedure set out in law which allows people to challenge such decisions. 
Adriana Tidona, Amnesty International's migration researcher, said:
"This camp more closely resembles a prison than a place to house people seeking safety.

"This is a gross misuse of EU money, and a gross abuse of the residents' rights.

"As we feared, Greek authorities are hiding behind the legally ambiguous concept of so called closed-controlled centres to illegally deprive asylum-seekers of their liberty. 

"We call on Greece to urgently withdraw this decision and lift the restrictions on the residents of Samos camp. The European Commission must also ensure respect for fundamental rights within EU funded facilities." 
People in the camp speak to Amnesty
Amnesty visited the premises of the Samos "Closed Controlled Island Facility" on 22 November and met some of the people inside.
"A", an Afghan man from Kabul staying in the camp with his wife and children, has been in Greece for nearly two years. His asylum claim was rejected multiple times and his asylum card withdrawn, leaving him unable to leave the facility. Before being transferred to KEDN, he and his family lived in the "jungle", a spill-over settlement around the old Samos camp, infamous for its abysmal living conditions. Speaking from the container where he lives with his family, he told Amnesty:
"They have been treating us like prisoners ... You really go insane in this place. You can't go back. You can't go forward ... I cannot really sleep ... All the time we are living life with no purpose, with a lot of anxiety." 
"H", another Afghan man in Greece since February 2020 whose asylum claim has twice been rejected, has not left the camp for five days. Before the 17 November decision, he was active outside the camp. He told Amnesty:
"I was studying English and volunteered outside the camp. In the last five days I feel that I am a prisoner. In the old camp, at least, I had my freedom." 
EU funding of closed camps
The Samos KEDN was established with the help of 276m Euro European Commission funding allocated for the construction of new facilities for people seeking asylum on the Aegean islands, facilities designed to replace existing Government-managed open camps. On 27 November, the Greek authorities opened KEDNs on Leros and Kos, and further KEDNs on Lesvos and Chios are set to follow.
Financial support cut off
In addition to restrictions on movements in Samos, people seeking asylum right across Greece have not been provided with financial assistance for two months after it abruptly stopped when the management of the EU-funded cash assistance programme transferred from the UNHCR to the Greek authorities. According to NGOs in Greece, approximately 34,000 people are currently affected. Since October this year, the Greek authorities have also stopped the provision of food and water to recognised refugees, and to people whose asylum applications have been rejected.