Greece: COVID-19 exposes urgent need to rescue the country's austerity-ravaged health system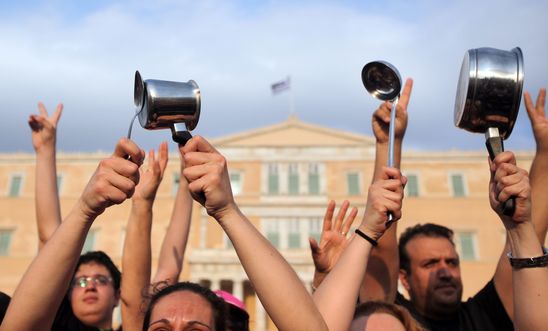 Thousands protested against austerity measures in the country when they were implemented (protest in Athens shown) © Getty
Greek government introduced austerity measures in 2010, slashing public spending by 32 percent and public health expenditure by nearly 43 percent
New report outlines how the Government desperately needs to invest in health and social care to rebuild the crumbling system now faced with a pandemic
'Greece's painful experience of the last decade must not be repeated or replicated and there should be no return to the harmful strategy of austerity' - Kondylia Gogou
The COVID-19 pandemic in Greece has laid bare how years of recession and austerity measures have left the country's health system on its knees, Amnesty International said in a new report published today.
Resuscitation required: The Greek health system after a decade of austerity, documents how 10 years of severe cuts have left many people unable to afford and access healthcare. 
Kondylia Gogou, Amnesty International's Greece Researcher, said: 
"A decade of austerity measures have drastically weakened the Greek public health system. 

Staff and equipment shortages are making headlines, but the reality is that Greece's healthcare system has been crumbling for years. 

"Public health services have struggled heroically to respond to the current pandemic but it is vital that the government recognises this crisis as a wake-up call and begins investing in health and social care.

"With a post-pandemic recession looming across the world, there are important lessons that can be learned. Greece's painful experience of the last decade must not be repeated or replicated and there should be no return to the harmful strategy of austerity."
A decade of difficulty
The Greek government introduced austerity measures in 2010, slashing public spending by 32 percent across sectors. Public health expenditure fell by nearly 43 percent between 2009 and 2017 with structural reforms shifting a greater proportion of healthcare costs onto patients. 
The impact has been sharply felt by staff and patients. Amnesty interviewed 75 people seeking care in the public health system and 55 health workers for the report. Around 90 percent of those interviewed told Amnesty they had faced lengthy waiting times and many described difficulties they faced in accessing health care due to high costs.
One man said: "If you don't have money, you can't have healthcare nowadays". Another said: "If it is not an emergency, you just wait in pain."
Catastophe looms: COVID-19 adds to pressure
Greece reported its first case of COVID-19 was reported in February. The Greek Government responded to the COVID-19 pandemic with a series of containment measures, including a swift lockdown, which helped to minimise the number of infections and deaths. It also offered general economic support to the population and injected an additional €200 million into the health system.
Many of the challenges faced by health workers during austerity have been exacerbated during the pandemic, raising serious concerns about their health, safety, and working conditions.
Health workers told Amnesty International that they face difficulties due to low staff numbers, lack of adequate personal protective equipment, and lack of adequate medical equipment including ventilators and ICU beds. Whilst economic crisis and austerity measures particularly and disproportionately impacted some groups before the pandemic these have been worsened since the arrival of COVID-19.
One health worker told Amnesty: "During the financial crisis when there were cuts in the health sector this resulted in most hospitals operating with half the personnel required. [Currently in our hospital] we work with half the required staff and if COVID-19 cases increase it would be impossible."