Greece: 'absurd' people smuggling charges against three NGO volunteers should be dropped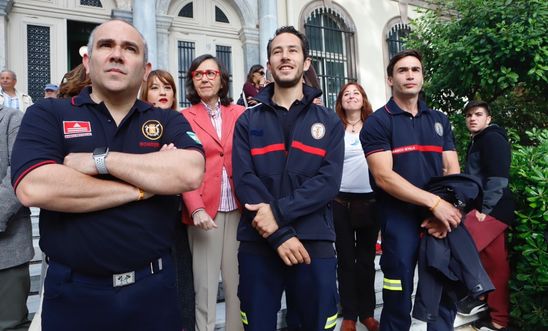 The firefighters have been helping to rescue those in danger of drowning at sea off the coast of Lesvos © Amnesty International / Vassilis Mathioudakis
Trial begins in Mytilene of three Spanish firefighters who face up to ten years in jail
Spokespeople attending the trial and available for interview
'Efforts by NGOs to save lives at sea should ... be lauded, defended and celebrated' - Maria Serrano
As the trial begins today of three Spanish firefighters charged with people smuggling while conducting search and rescue activities on the Greek island of Lesvos in 2016, Maria Serrano, Amnesty International's Senior Campaigner on Migration, said:
"These three firemen were in Lesvos to use their professional lifesaving skills to save children, women, and men from drowning.
"They have done nothing wrong and they have committed no crime. These charges must be dropped.

"The absurdity of dragging these brave volunteers before a court on surreal smuggling charges makes a mockery of justice and exposes the moral confusion among those who seek to criminalise acts of solidarity and intimidate human rights defenders.

"Efforts by NGOs to save lives at sea should instead be lauded, defended and celebrated."
Manuel Blanco, Julio Latorre and Jose Enrique Rodríguez were volunteering with the NGO Proemaid when they were arrested in January 2016 while attempting to locate a boat in distress.
The three have been charged with attempted "smuggling". If found guilty they could face jail terms of up to ten years. A verdict on the case is expected between today and Wednesday.
Another two people from the NGO Team Humanity - Mohammed Abbassi and Salam Aldeen - are also facing similar charges and will be tried together with the firefighters.
The three Spaniards have continued their work on Lesvos despite the absurd prosecution, supporting the Greek authorities and providing professional emergency services, including assistance during a major earthquake in Lesvos last year.
Proemaid started working in Lesvos in December 2015 and has saved hundreds of lives since then.