Graffiti artist Pure Evil designs new t-shirt for Stop Torture campaign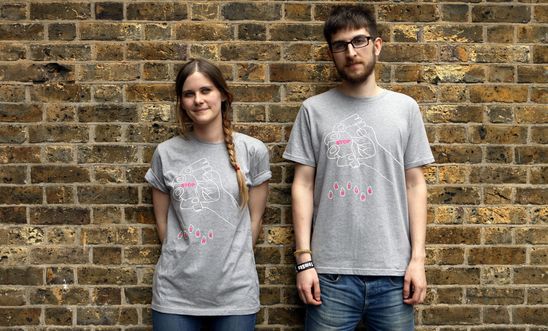 Artist Pure Evil believes his t-shirts can help 'change the way people think' about torture © Imran Uppal
'I wanted to make an image that any idiot could understand' - Pure Evil
The east London graffiti artist Pure Evil has designed a new t-shirt for Amnesty International's Stop Torture campaign.
The white-line-on-grey design features a hand squeezing a heart organ complete with valves that drip drops of blood. The slogan "Stop Torture" is picked out in fluorescent pink, including in the blood droplets. On the t-shirt's reverse side Pure Evil's logo appears with Amnesty's iconic candle logo at the top centre (see photo).
The Welsh-born Pure Evil - aka Charles Uzzell-Edwards - has exhibited his work widely, and is known for a wide range of designs including a "hoodie" figure stealing one of the Olympic rings and iconic pop art-style portraits that drip a long trail of blood from one eye. 
Pure Evil said:
"I wanted to make an image that any idiot could understand. 

 

"I wanted to create a simple direct image that cuts through all the crap and gets the message across. 

 

"Torture is about hate. Torture is not a way to get to the truth - it's about lies and fear.

 

"I'm not saying an image can change things, but it can express a point of view or an idea and that can maybe change a point of view. If we can change the way people think, then maybe we can stop torture.  

 

"Torture used to have a sort of medieval connotation to it, but it has been co-opted and justified as a legitimate act by the modern world. Let's send it back to the dark ages and make it a distant memory."
Amnesty International UK Stop Torture campaign manager Tom Davies said:
"Pure Evil's support for the campaign is greatly appreciated. Stamping out the scourge of torture is partly about changing hearts and minds and this eye-catching t-shirt is all part of that." 
Pure Evil recently lead an art workshop with a group of Amnesty youth activists to collaborate on a large mixed-media collage artwork inspired by the case of Moses Akatugba from Nigeria, who was arrested in 2005 for armed robbery and tortured into signing a confession and sentenced to death. Akatugba was
freed under a pardon
last month.
Other leading designers who have previously worked with Amnesty include David Shrigley (who has produced a new Stop Torture
tote bag
, Shephard Fairey, Pam Hogg, Katherine Hamnett and the London College of Fashion.
T-shirt manufacture, sizes and cost
Pure Evil's unisex t-shirt - which is a 100% organic product made from Indian Cotton - is available in all sizes from Small to XXL and costs £14.50. It is produced in accordance with the Global Organic Textile Standard (GOTS) and certified by the Control Union and Soil Association Certifications, with a 90% reduced Carbon Footprint according to the BSI PAS2050 and certified by the Carbon Trust. It has been audited by the
Fair Wear Foundation
.
For more on Pure Evil, go
here
.
The Pure Evil Stop Torture t-shirt is available at the Amnesty International UK online
shop
.
Stop Torture campaign
Amnesty's Stop Torture campaign, launched in May 2014, has included reports on torture in Mexico, Nigeria, the Philippines, Uzbekistan and Morocco.  Amnesty's 2014 annual report on human rights reported torture and other ill-treatment in 82% of countries covered (131 out of 160). For more information, go
here
.