Governments out of touch on refugees, World Economic Forum survey reveals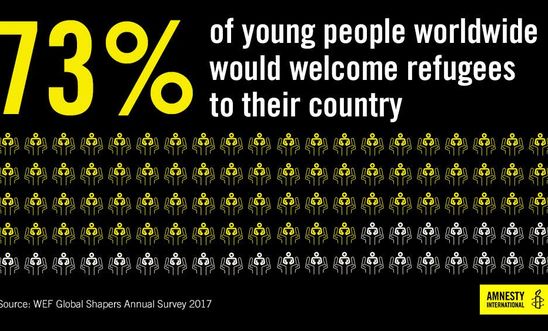 A new survey released by the World Economic Forum (WEF) on young peoples' attitudes towards refugees exposes just how out of touch governments are with their citizens, Amnesty International said today.
According to the Global Shapers Annual Survey, the vast majority (72.6%) of people aged 18-35 would welcome refugees into their countries. More than a quarter (27.3%) say they would even take refugees into their own homes.
Salil Shetty, Amnesty International's Secretary General, said:
"People fleeing violence and persecution around the world have repeatedly had doors slammed in their faces by wealthy governments who claim they cannot help them. WEF's research shows that young people aren't buying it, and are dismayed by the heartless attitudes of their leaders.

"Almost two years after the tragic photo of Alan Kurdi shocked the world, many governments are still failing to live up to even their own paltry resettlement commitments and 2017 looks set to be the deadliest year on records for migrants and refugees crossing the Mediterranean. But it doesn't have to be this way - all too often laws and policies are the main obstacles to the compassionate responses of ordinary people."
Last year, Amnesty International published its own survey as part of its 'I Welcome' campaign, which found four in five people would welcome refugees to their countries. The WEF survey results show little has changed.
When asked what governments should be doing about refugees, more than half of respondents (55%) say they believe that governments should "try to include refugees in the national workforce". Only 3.5% believe that governments should "expel/deport" refugees.
Significantly, in the US a huge 85% of young people say they would welcome refugees to their country, an increase of more than 10% on last year's survey.
Salil Shetty said:
"This gives the lie to Donald Trump's claim that his hateful anti-refugee rhetoric represents the US population. It is encouraging to see how many young people are resisting President Trump's poisonous narrative – and shows how vital it is that their voices are heard."
Amnesty International's 'I Welcome' campaign continues to mobilise public pressure to call on countries to do more to welcome refugees. As part of the campaign, Amnesty International and Sofar Sounds will hold concerts in more than 200 cities around the world on 20 September in aid of refugee rights. Called Give A Home for Human Rights, the gigs will see major artists like Ed Sheeran, Gregory Porter, Hot Chip, Jessie Ware and Kate Tempest joining forces with refugee musicians to perform secret concerts in ordinary people's homes.
The date marks the one year anniversary of the 20 September Leaders' Summit on Refugees in New York in 2016, where world leaders made pledges that fell dramatically short of what is needed to address the global refugee crisis.