Giulio Regeni: rally for tortured student in Cambridge on Friday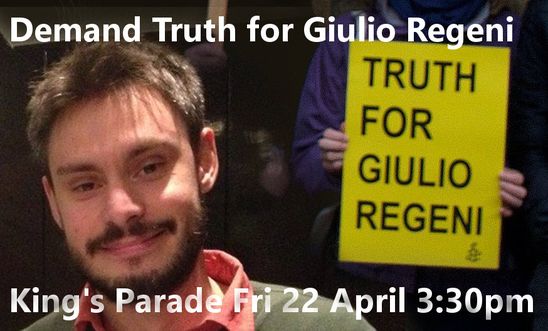 Amnesty International is staging a rally and photo-call in Cambridge on Friday afternoon for Guilio Regeni, the Italian student who was killed in Egypt earlier this year, apparently after being abducted and tortured.
Regeni, a 28-year-old PhD student at Cambridge University who was in Egypt researching trade unions, went missing in Cairo on 25 January. His badly-mutilated body was found in a ditch on the outskirts of Cairo on 3 February, one of many such discoveries in Egypt recently. 
Friday's event, which has been organised by Cambridge University and Cambridge City Amnesty groups, and is supported by the Egypt Solidarity Initiative, will see friends and campaigners - including Cambridge MP Daniel Zeichner - with Guilio Regeni banners assembling at 3.30pm in King's Parade, Cambridge CB2 1SJ. There will be speeches and an opportunity for photographs. 
Amnesty International's Cambridge City chair Liesbeth Ten Ham said:
"What happened to Giulio Regeni was truly appalling and we're deeply worried that the Egyptian authorities are attempting to cover up his death. 

 

"We need to see a full investigation that leaves no stone unturned. 

 

"Tragically enough, Giulio is one of many people to have disappeared and to have wound up dead in Sisi's Egypt. We need justice for Giulio, and justice for all Egypt's other disappearance victims."
Scores of people have reportedly been "disappeared" by the security forces under the government of President Abdel Fattah el-Sisi in the past year alone. There are also numerous reports of the torture of those taken into custody by the Egyptian security services, including of students. Torture ranges from beatings, to electric shocks and the use of stress positions. There have also been a series of deaths in custody as a result of torture and a lack of access to urgently-needed medical care. 
Regeni's death has sparked international outrage, with responses including a "Truth about Giulio Regeni" campaign (Verità per Giulio Regeni) by Amnesty International Italy.
UK response
In the UK a
petition
 calling for the UK Government to press the case for a full investigation into Regeni's death has passed 10,000 signatures, requiring the UK government to respond to the initiative. The UK Government has previously called for a "full and transparent investigation" into Regeni's murder, but has not yet responded to the petition.
Liesbeth Ten Ham added:
"Where's the outrage from the UK Government over this shocking killing? 

 

"We're getting the distinct impression that Downing Street is keeping its response to Giulio Regeni's horrible death to a minimum.

 

"Giulio was a student at one of the UK's best-known universities - it's only right that the UK Government steps up its call for truth and justice in this case."
Cambridge MP Daniel Zeichner said:
"There is a profound sense of shock and sadness in Cambridge at the tragic death of Giulio Regeni. I pay tribute to the work of local campaigners especially Amnesty International, to Cambridge University and the academics who organised the open letter. However, I am increasingly frustrated with the Government's weak response."