Giant postcard protest ahead of Abu Dhabi Grand Prix over jailing of human rights lawyer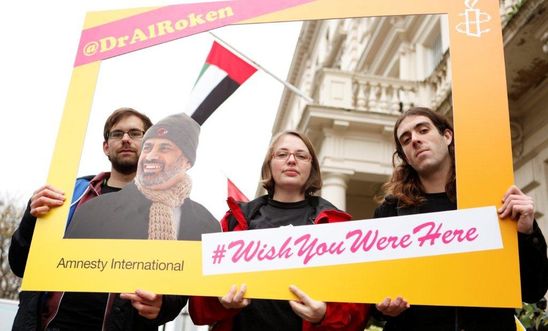 Amnesty activists outside UAE Embassy © Imran Uppal
Two days before the Abu Dhabi Grand Prix, three teams of Amnesty activists embarked on a whistle-stop tour of London landmarks today with a giant postcard and asked passers-by to stand in the frame in solidarity with jailed UAE human rights lawyer and former Warwick University student, Mohamed al Roken.
Mohamed al Roken was sentenced to ten years in prison in July last year following his conviction in a mass trial of government critics and campaigners calling for political reform. Amnesty considers him a prisoner of conscience and is calling for his immediate release. Mohamed studied for an MA in Constitutional Law at Warwick University 1985 and for a PhD in 1992.
The giant postcard featured a picture of Mohamed, while the rest of the space had been cut out so it could be held up in front of a significant or famous landmark and commuters, tourists and other passers-by could have their photos taken. Landmarks on the route included: Westminster Bridge (with the Houses of Parliament in the background), Buckingham Palace, the Tate Modern, the Emirates Stadium, St Paul's Cathedral and Trafalgar Square and the UAE Embassy. 
The hashtag #wishyouwerehere was scrawled on the card – a reference to Mohamed's love of travel - as was his twitter handle @DrAlRoken. The teams asked people to include those in photos they tweeted of themselves participating in the action, effectively taking Mohamed on a virtual tour of London.
Earlier in the day one of the teams visited the UAE Embassy and asked staff there if they would like to pose in the postcard, but they declined. They also handed in a copy of an Amnesty report published on Tuesday which sheds light on the repressive tactics used by the UAE government to silence critics since the Arab Spring and exposing the sinister side of UAE's glitzy image.
The stunt forms part of Amnesty's annual Write for Rights campaign where we ask people to write letters of solidarity to prisoners of conscience and those suffering human rights abuses around the world, and letters to the authorities calling for their release or protection.