Georgia: 'Heavy-handed' police response must be investigated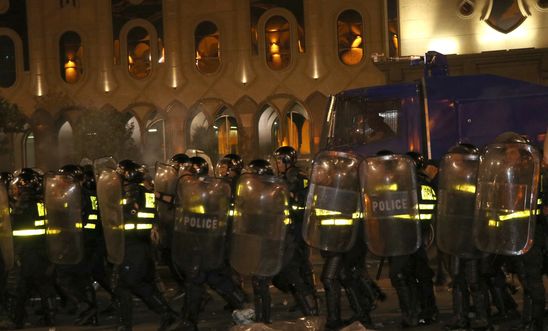 Police take security measurements as protesters gather outside Georgia's parliament © Getty Images
Numerous injured, including at least 31 journalists
Amnesty International is calling for an immediate, thorough and independent investigation into the use of force by riot police in Georgia, after protesters in Tbilisi were hit with rubber bullets and tear gas.
Anti-Russian protests erupted in the Georgian capital Tbilisi earlier today after a Russian MP, Sergey Gavrilov, took the speaker's seat in the Georgian parliament as part of a regional inter-parliamentary event. The session was suspended but some protesters attempted to forcibly enter the parliament building, demanding the resignations of senior government figures.
Levan Asatiani, Amnesty International's Senior Campaigner for South Caucasus, said:
"The disturbing scenes in Tbilisi this morning show a total failure to distinguish between the few violent protesters and the peaceful majority.
"The heavy-handed police approach has resulted in scores of injuries, including at least 31 journalists. Most of them were hurt by rubber bullets, despite being identifiable as journalists as they tried to report on the protests.
"Rubber bullets can cause serious injuries and should never be used indiscriminately to disperse crowds. Police have the duty to protect public order and respond to violence, but their response must be necessary and proportionate.
"We are calling for a prompt, thorough and independent investigation into these events. With further protests likely, it's essential that police are instructed to exercise restraint and respect the right to peaceful freedom of expression."