Fresh call for release of Bahraini teachers union head Mahdi Abu Dheeb (London embassy meeting)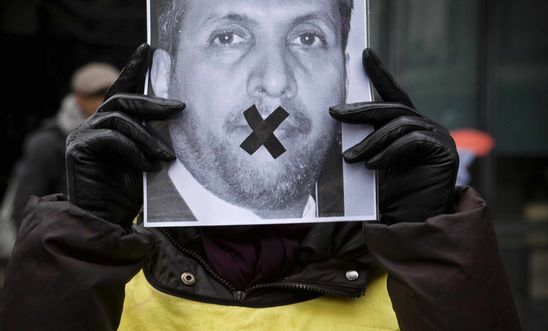 Amnesty and union leaders handing petition to Bahraini ambassador in London today
Amnesty International and leading trade unionists are raising the case of the jailed president of the Bahrain Teachers Association Mahdi Abu Dheeb at the Bahrain embassy in London later today.
Mahdi Abu Dheeb is serving a five-year jail sentence, having originally been sentenced to ten years in prison by a military court in Bahrain in 2011. Among other things, Abu Dheeb was accused of using his position to call for a strike by teachers, of halting the educational process, and of "inciting hatred of the regime" and "attempting to overthrow the ruling system by force". 
His sentence was reduced to five years on appeal in 2012, though Amnesty has named him a prisoner of conscience and called for his immediate and unconditional release. 
This afternoon, Amnesty International UK's Director Kate Allen - along with Owen Tudor, Head of European Union and International Relations at the TUC, Christine Blower, General Secretary of the NUT, and Patrick Roach, Deputy General Secretary of NASUWT - will meet the Bahraini Ambassador to the UK (Alice Thomas Samaan) to call for Abu Dheeb's release. The group are also seeking assurances that teachers in Bahrain will be able to perform their roles - including within trade unions - without fear of harassment or persecution.  
Over 35,000 people have supported an Amnesty campaign for Abu Dheeb's release and the delegation will be presenting a petition of signatures and solidarity material to Ambassador Samaan. 
Amnesty International UK Director Kate Allen said: 
 

"Mahdi is languishing behind bars simply for calling for a strike - a shocking overreaction from the Bahraini authorities who stopped at almost nothing to crush opposition during the 2011 protests. 

 

"It's encouraging that Ambassador Samaan is meeting us but it's now vital that she passes on our urgent message that Mahdi must be released. 

 

"The Bahraini authorities need to end their harassment of teachers and union members, and start respecting the human rights of everyone in this troubled country."
Zainab Al-Khawaja case
On Tuesday the prominent Bahraini human rights activist Zainab Al-Khawaja was detained for "insulting" Bahrain's King after she tore up a photograph of the monarch in court. Al-Khawaja, who was appealing against two previous convictions for ripping up photos of Bahrain's head of state, is now being held for seven days while the authorities investigate the incident. If convicted, she could face up to seven years in prison. Yesterday Amnesty said that she is a prisoner of conscience who should be released immediately.