First same-sex couple to marry in UK says five-year anniversary 'marred' by inequality for Northern Ireland couples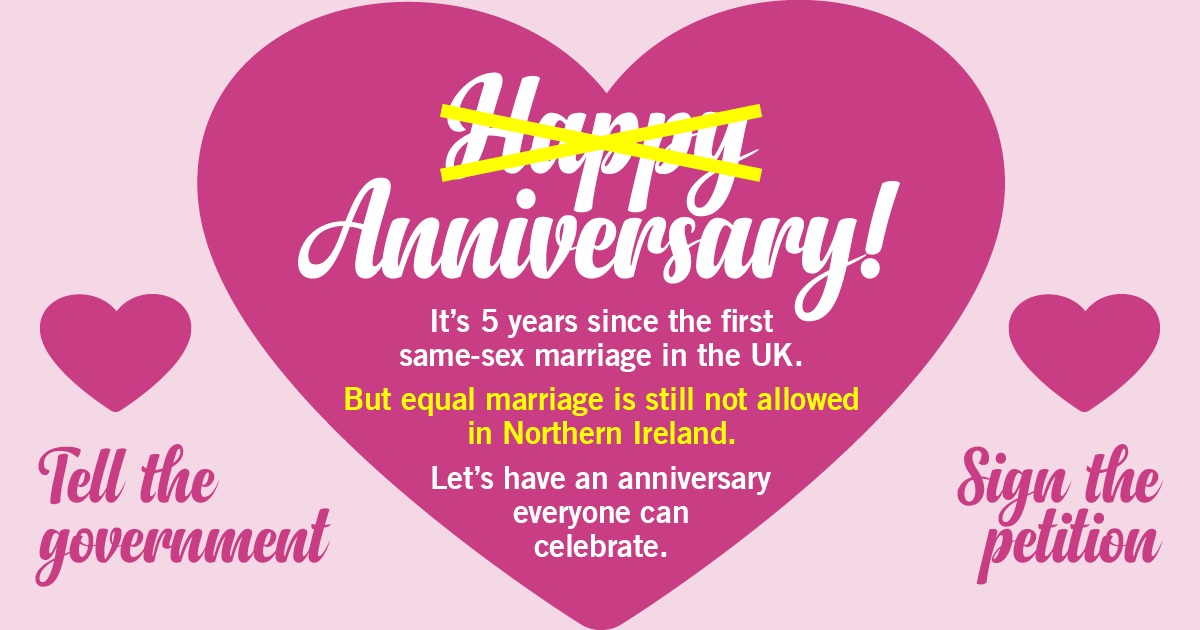 Five years since the first same-sex UK marriage, Peter McGraith calls for marriage equality to be extended to Northern Ireland
Equal marriage advocates Conor McGinn MP and Lord Hayward issue joint statement urging Westminster to legislate
The first same-sex couple to get married in the UK is urging the Government to extend marriage equality to Northern Ireland on the fifth anniversary of their wedding (Friday 29 March).
Peter McGraith and David Cabreza from north London had been partners for 17 years before they tied the knot at one-minute past midnight on 29 March 2014, making them the first same-sex couple to marry in the UK after the passing of the Marriage (Same Sex Couples) Act 2013.
The couple say they cannot fully celebrate their fifth wedding anniversary knowing that LGBT couples in Northern Ireland are still denied the right to marry.
Northern Ireland is the only part of the UK or Ireland which still bans marriage for same-sex couples, despite majority support among the public there.
Peter McGraith said:
"Today we celebrate our fifth wedding anniversary, but those celebrations are marred by the knowledge that in one part of the country couples just like us can't do the same.

"Some of our politicians are now promoting the LGBT rights agenda in places like Uganda, Russia and India, but how can our Government be taken seriously on the world stage when Northern Ireland law is still in line with anti-gay regimes on the issue of marriage rights?

"Theresa May, like David Cameron, is proud of her role in marriage equality in England and Wales.  So proud, she urged the Australian government to move forward with its own legislation on the issue. 

"But it's to this Government's shame that they have chosen not to help deliver marriage equality in Northern Ireland, despite Stormont being suspended for so long and overwhelming support for equal marriage among the Northern Irish people".
Conor McGinn MP and Lord Hayward's joint statement
Meanwhile, Conor McGinn MP and Lord Hayward - two leading campaigners in Parliament who jointly won the Pink News Parliamentarian of the Year Award last year - have today issued a joint statement urging the Government to extend the marriage equality law to Northern Ireland.
Their joint statement reads:
"Today marks five years since the first same-sex weddings in the UK.

"A cause for genuine celebration, it also serves as reminder of the continuing exclusion of the LGBT community in Northern Ireland.

"With Northern Ireland left out of the Marriage (Same Sex Couples) Act, and with Scotland and the Republic of Ireland having both since legalised same-sex unions, Northern Ireland has been left well and truly behind.

"Northern Ireland's same-sex couples are being denied the simple right to marry, despite overwhelming support among the public as well as the backing of at least 55 of the 90 Assembly members.

"However, as we all know, Stormont has not met in more than two years and with no immediate prospect of its return, the only government and only legislature able to address this issue is to be found at Westminster.

"The Government must act. It should extend legislation in England and Wales to couples in Northern Ireland. In due course, Stormont can legislate on the matter if it so chooses when it finally returns.

"Our union should be built on common values, equality and rights, with no-one left behind.

"Let's have a wedding anniversary which all can celebrate."
In 2018, Conor McGinn and Lord Hayward submitted identical Private Member's Bills in the House of Commons and House of Lords to legislate for same-sex marriage in Northern Ireland. To date, the UK Government has refused to legislate or to allocate parliamentary time to allow the passage of either of the two Bills.
Same-sex marriage in Northern Ireland
In November 2015, Members of the Northern Ireland Assembly voted to support equal marriage, but the measure was blocked by the Democratic Unionist Party.
In January 2017, both the Northern Ireland Executive and Assembly collapsed. Attempts to restore power-sharing have failed and there is no prospect of the early return of devolved government to Northern Ireland.
A Sky News poll in April 2018 showed 76% support for marriage equality amongst the Northern Ireland public.
Amnesty's petition calling on Prime Minister Theresa May to introduce a Bill to legalise equal marriage in Northern Ireland has more than 35,000 signatures.