An evening with Syrian activists Mazen Darwish and Yara Bader - London, Mon 18 July 2016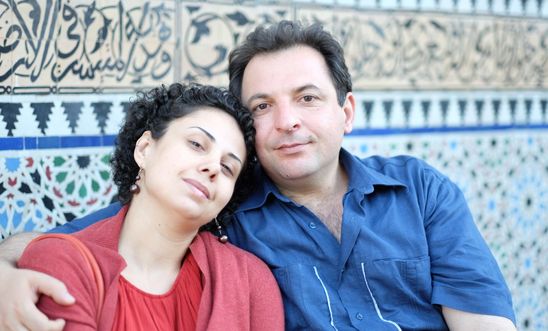 Yara Bader and Mazen Darwish have both been detained by the Syrian authorities © Amnesty International
On Monday 18 July (7pm) Amnesty International UK is hosting a discussion event with the Syrian lawyer and journalist Mazen Darwish, and his wife, the journalist and activist Yara Bader.
The evening's discussion - co-hosted by English PEN and PEN International, and chaired by the director of English PEN, Jo Glanville - will see these two prominent members of Syria's exiled civil society movement talking about their experiences and discussing the prospects for a Syria free of conflict and mass human rights abuse. 
Mr Darwish, who is the founding director of the Syrian Centre for Media and Free Expression, was jailed for three-and-a-half years in relation to his reporting of the Syrian authorities' crackdown on opposition protests. After his arrest in February 2012, he was "disappeared" by the authorities and during his detention suffered torture. He was eventually released last August. 
Yara Bader, who was arrested at the same time as her husband but released after three months, led an international campaign for her husband's release. Numerous organisations called for Darwish's release and Amnesty designated him a prisoner of conscience.
In 2014, the writer Salman Rushdie chose Darwish as the recipient of the PEN Pinter Prize for an international writer of courage. In his acceptance speech, smuggled out of a prison in Damascus, Darwish called for a new social contract that "frees Syria from tyranny … cleanses her soil of terrorism, and saves our children from the perils of sectarianism".
Mazen Darwish and Yara Bader will be in discussion with the director of English PEN, Jo Glanville. 
Event details: 
Who: Mazen Darwish, Yara Bader and Jo Glanville
What: chaired discussion, followed by an informal drinks reception
Where: Free Word Centre, 60 Farringdon Road, London EC1R 3GA (Clerkenwell)
When: Monday 18 July, 7.00-9.00pm (doors open at 6:30pm)
Cost:
£5-£8
, tickets available
here
.