European Games: Amnesty urges Lord Coe to speak out against human rights abuses in Azerbaijan ahead of opening ceremony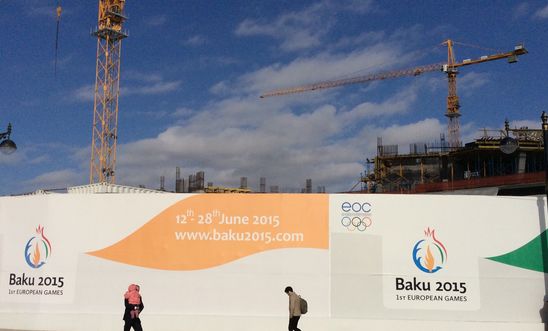 Construction work for the European Games © Amnesty International
Lord Coe should speak out against human rights abuses in Azerbaijan ahead of the European Games in Baku which start next week (12-28 June), Amnesty International UK said today.
In a letter to Lord Coe - chair of the British Olympic Association - Amnesty International UK director Kate Allen asked him to use his influence to raise the organisation's concerns about a severe crackdown on freedom of expression with Azerbaijan's President Ilham Aliyev and with the European Olympic Committees (EOC), under the auspices of which the Games are taking place. Lord Coe is also a director of PR firm Chime Communications, which has played a key role in bids for major sports events in Azerbaijan, including the European Games.
The European Games will see Baku host an estimated 6,000 athletes from 50 countries participating in 20 sports. The event has reportedly cost £6.5 billion. Team GB will be taking part in 14 sports, including triathlon, aquatics, gymnastics and boxing.
Extensive research by Amnesty and other NGOs has revealed that the event is taking place against a backdrop of repression which has intensified in the run up to the opening ceremony on Friday next week (12 June). Anyone who criticises the authorities is likely to find themselves arrested and jailed on trumped-up charges ranging from drugs or hooliganism to tax evasion and illegal business activity. There are now at least 20 prisoners of conscience in Azerbaijan, jailed simply for peacefully exercising their right to freedom of expression. Many others have fled the country, or been intimidated to the point where they are too scared to speak out.
In the letter, Kate Allen highlighted the cases of three prisoners of conscience:
Leyla Yunus, director of the Institute for Peace and Democracy, who was arrested last July - a few days after peacefully calling for a boycott of the Games because of Azerbaijan's dire human rights record. Falsely charged with tax evasion and illegal business dealings, she has been in prison awaiting trial since her arrest. She recently had her pre-trial detention extended until after the Games. She suffers serious health problems that are not being dealt with in prison.

Rasul Jafarov, who faces trumped up charges of tax evasion and illegal business dealings. Rasul is head of Azerbaijan's Human Rights Club who organised the powerful Sing for Democracy campaign during the Eurovision Song Contest in Baku in 2012. He had been planning to launch a Sport for Democracy campaign around the European Games to highlight the crackdown on freedom of expression and lack of any real democracy in Azerbaijan.

Khadija Ismayilova, an award-winning investigative journalist working for Radio Free Europe, who had been investigating claims of links between President Ilham Aliyev's family and a lucrative construction project in Baku when she was arrested in December last year. She was accused of 'inciting a colleague to commit suicide', and other politically-motivated charges were also brought against her. The colleague in question later admitted that he had been forced to file a complaint against her and that his suicide attempt had nothing to do with Ismayilova. She has faced continuous harassment from the authorities over the years, and now faces 12 years in prison if found guilty of all the charges.
The letter went on to say:
"As you will be aware, the organisers of the Games are paying the expenses of all travelling athletes, including Team GB. While British athletes run, swim, jump and box, Azerbaijani nationals will be living in fear of swift and brutal reprisals if they dare to express a view at odds with government policy or that challenges or criticises the behaviour of the authorities. For an Olympic event that is supposed to promote peace, mutual respect and understanding, it seems the EOC is a long way from achieving that objective. It is difficult to see how, in this context, the European Games can honour the Olympic Charter's claim to 'place sport at the service of the harmonious development of society'.

"I urge you to use your influence as chair of the BOA, and also in your role as director of Chime Communications which has played a key role in bids for major sports events in Azerbaijan, to raise these concerns with:

"1. The EOC, calling on them to work with the Azerbaijani government to ensure a positive legacy of this event by releasing all of the people who are locked up simply for challenging or criticising the government and to ensure that any future edition of the European Games considers human rights at all stages of the bidding process, from initial bids to delivery to evaluation.

"2. To raise Amnesty International's concerns directly with the President of Azerbaijan Ilham Aliyev, telling him that if he really wants to show how modern and dynamic his country is through this event, he should do so by stopping the crackdown on freedom of expression and immediately release everyone who has been unfairly imprisoned."