European Commission asylum reforms must lead to genuine responsibility-sharing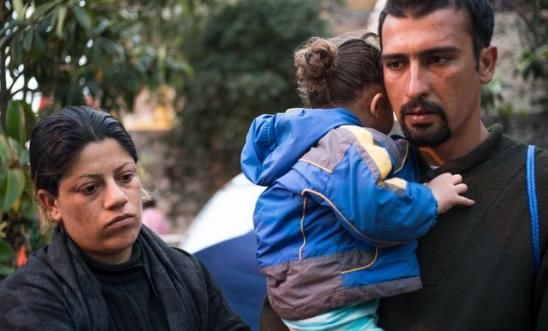 A Kurdish family in Lesvos, the Greek island at the centre of a controversial EU deal return people from Greece to Turkey © Olga Stefatou
'Downing Street has got to stop acting as if what happens in Greece or Italy is almost nothing to do with the UK' - Steve Symonds
Proposed reforms to the European asylum system presented by the European Commission today must serve as an opportunity to achieve a fairer distribution and better conditions for refugees within Europe, said Amnesty International.
Amnesty International Europe and Central Asia Director John Dalhuisen said:
 

"This cannot be yet another missed opportunity to genuinely deal with the challenges refugees arriving in Europe face.

 

"Persevering with a system that has stranded 50,000 refugees in Greece in dire conditions is nothing short of madness.

 

"It is completely unfair to expect frontline European countries already struggling to deal with this crisis to bear the highest burden, while others fail to pull their weight in supporting both refugees and the countries hosting them."
Amnesty believes that any European asylum system reform must uphold the right to asylum, ensure asylum-seekers are distributed fairly across all EU member states, that their human rights are respected and that they will be welcomed and integrated into their host communities effectively.
UK position
The UK has expressed strong opposition to changing the Dublin Regulations, which currently mean that many asylum-seekers can be returned to the first EU country they had entered, thus adding to overall numbers in frontline countries such as Greece and Italy. The UK has also refused to take part in EU relocation schemes aimed at sharing responsibility more fairly across EU states.
Amnesty International UK's Refugee Programme Director Steve Symonds said:
"It's time for the UK to start sharing responsibility with our European partners.

 

"Downing Street has got to stop acting as if what happens in Greece or Italy is almost nothing to do with the UK. 

 

"This is a global refugee crisis and everyone in Europe needs to pull together.

 

"The UK should stop looking the other way and whistling loudly, and instead agree to look seriously at fair and properly-managed refugee responsibility-sharing. 

 

"We also need to see the creation of safe and legal routes for those trying to enter Europe so they don't have to risk drowning in the Aegean or Mediterranean, or being detained by border police and even bundled back across borders into lethally dangerous places like Syria."