Europe: Leaders manufacturing migration 'crisis' for political gain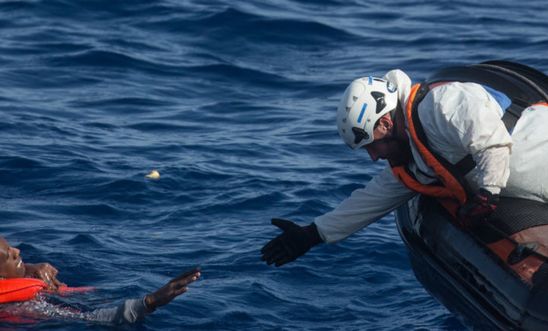 European leaders are distorting the debate on migration for political gain and abandoning refugees and migrants at sea, Amnesty International said today (18 January) as it published a new analysis into migration across the Mediterranean.
The analysis - Cut adrift in the Mediterranean – has been published in response to the continued anti-refugee political rhetoric across Europe.
Last year, the number of irregular border crossings at Europe's external borders fell to the lowest level in five years, according to the European border agency Frontex.
Despite this, some governments keep insisting that Europe is facing a "crisis" and that migrants and refugees are a threat to Europe, as are civilians who assist them, including by saving them at sea.
In the UK, the Home Secretary, Sajid Javid, has questioned whether people crossing the English Channel are refugees even before there has been any opportunity to assess any asylum claim they may make. 
Steve Valdez-Symonds, Amnesty UK's Refugee and Migrant Rights Director, said:
"Like Donald Trump with his inflammatory remarks concerning the Mexican border, politicians in Europe - Sajid Javid among them - have manufactured the idea of a migration 'crisis' for political reasons.
"Official figures show that border crossings to EU countries by people seeking asylum are down, yet politicians like Matteo Salvini are blocking boats and shamefully putting peoples' lives at risk.
"The Home Secretary's recent anti-refugee rhetoric - including remarks suggesting asylum would be refused to any individuals crossing the English Channel even before any claims can be assessed - has been disgraceful.
"The UK should drop its hostility to migrants and start talking to its European neighbours about how the UK can start doing its fair share to help refugees who come to Europe."
Blocking the Mediterranean crossing
Over the last few years, EU governments have put in place a series of measures to block crossings in the central Mediterranean, including boosting the capacity of the Libyan Coast Guard to intercept people seeking safety and hampering the work of NGOs carrying out search and rescue operations.
This strategy has focused on keeping people away from Europe despite the fact that Libya does not have the capacity to coordinate rescues and that under international law people rescued at sea cannot be taken to a country, such as Libya, where they are exposed to torture, extortion and rape.
Hampering search and rescue operations
In order to reduce the number of people being disembarked in their ports, some EU countries have withdrawn or reduced patrols by their own navies. NGOs that have stepped in to fill the gap have found themselves regularly refused a port at which to dock, particularly in Italy and Malta. Some European governments have even prevented them from conducting their life-saving activities, through unfounded criminal investigations and bureaucratic obstacles.
Last week, the Spanish maritime authorities prevented the Spanish NGO Proactiva Open Arms from rescuing people in the Mediterranean. In the administrative order, the Spanish authorities acknowledge the failures of the system, highlighting how various countries have acted in breach of international maritime law and standards, but nevertheless make rescuers and people seeking asylum pay the price for that failure.
Matteo de Bellis, Amnesty International's Migration Researcher, said:
"European leaders can no longer turn their backs on people stranded at sea and continue distorting the debate on migration for their own political gain.
"They must urgently agree on a swift and predictable disembarkation policy in line with international law and on a fair system to share responsibility for asylum-seekers among EU countries."
Amnesty is calling on European governments to work together on a joint solution to respond to migration in the Mediterranean, including enough rescue vessels, swift and reliable disembarkation mechanisms and a shared responsibility system.