EU countries still exploiting loopholes to trade in torture equipment - new report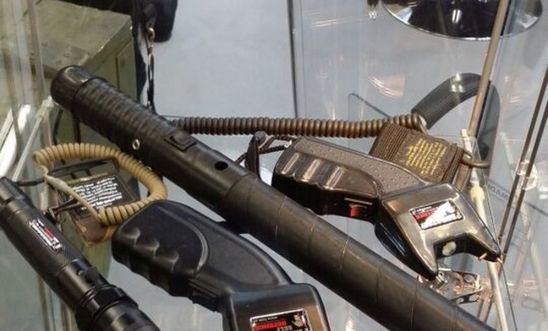 Torture equipment has been marketed in EU countries in recent years © Robin Ballantyne / Omega Research Foundation
'Companies can still profit from human misery despite the prohibitions and controls already in place' - Marek Marczynski
Companies based in the European Union are still marketing and trading in a range of security equipment which can be used to torture and ill-treat people, Amnesty International and the Omega Research Foundation warned in a new report today (28 May).
Such activities continue because of loopholes in the decade-old European regulation aimed at restricting the trade in these goods, said Amnesty and Omega.
The 56-page report - Grasping the nettle: Ending Europe's trade in execution and torture technology - is calling on EU institutions and member states to close the loopholes.
Since 2006, the EU has had the world's only regional mechanism (Council Regulation 1236/2005) to prohibit or control the trade of equipment which could be used in torture or capital punishment. However, Amnesty and Omega have highlighted serious limitations in the Regulation and its patchy implementation by EU states. In recent years the EU has sought to address these failings, including by greatly expanding the lists of goods that are either prohibited or controlled. 
The European Commission has presented proposals for strengthening the Regulation, which are now being considered by member states and the European Parliament. Amnesty and Omega support many of these proposals and urge their adoption. However, the organisations' new report identifies remaining gaps in these proposals, which would still allow EU companies to:
Broker the sale and transfer of security equipment to non-EU countries, as long as the deals are made outside the EU and the devices don't touch European soil 
Openly promote previously prohibited equipment such as net beds (a cage-like structure built into a bed frame), body-worn shock devices or restraints attaching prisoners to fixed objects at EU arms fairs and exhibitions, as well as on the internet
Market security equipment to police - such as electro-shock stun guns, shock batons and shock shields - that is completely inappropriate for law enforcement;
Provide police and military forces inappropriate technical assistance, including training in techniques that in some cases could facilitate torture and other ill-treatment
Introduce new technologies and devices onto the market even if these items could be used in the death penalty, torture or other ill-treatment
The Amnesty and Omega report is being launched as the European Parliament begins a discussion on proposed amendments to the 2006 Regulation (see below for details).
Amnesty International's Head of Military, Security and Police Marek Marczynski said:
"If Europe is serious about leading the charge to eradicate torture and abolish the death penalty, it must close these loopholes urgently.

 

"Europe has come a long way towards ending the repugnant trade in some of the world's most sinister tools and technologies which can be used to torture and execute people.

 

"But as this new report shows, significant loopholes remain. This means that companies can still profit from human misery despite the prohibitions and controls already in place."
Dr Michael Crowley of the Omega Research Foundation said:
"Whilst the Commission proposals are significant, they fail to effectively address a number of crucial weakness and loopholes in the Regulation and its attendant control regime. If these issues are not tackled directly now by the EU Member States and the European Parliament, this rare opportunity to comprehensively strengthen the control regime and close loopholes that can be exploited by unscrupulous traders will be missed.

 

"It is now time for the European Union to 'grasp the nettle' and end Europe's trade in torture technology for good."
Pressure growing to close loopholes
With the entry into force in 2006 of Council Regulation 1236/2005, the EU introduced unprecedented and binding trade controls on a range of equipment which is often used in capital punishment, torture and other ill-treatment ("tools of torture"), but which has not usually been included by EU member states in their military, dual-use or strategic export control lists.
Amnesty and the Omega Research Foundation produced three previous reports in 2007, 2010 and 2012, which identified specific loopholes in the EU regulation and omissions in the EU's two lists of prohibited and controlled items that have allowed the trade in "tools of torture" to continue.
Advocacy at the EU level around the 2010 report led to a decision by the European Commission the following year to expand the two lists to include other pieces of equipment - for example body-worn electric-shock devices, spiked batons and certain drugs used for lethal injections. Experts recognised that this was still insufficient to curb the trade and the Commission then began a comprehensive review of the Regulation.
On 16 July 2014, Commission Implementing Regulation (EU) No. 775/2014 further expanded the lists of prohibited and controlled goods covered by the Regulation.
This latest report by Amnesty and Omega is intended to feed into a debate due to begin at the European Parliament's Committee on International Trade and the Subcommittee on Human Rights on 28 May. Proposed amendments to the EU Torture Regulation resulting from this debate will be voted on in Committee in July and will eventually go to a plenary vote at the European Parliament in September.
Stop Torture campaign
Grasping The Nettle is part of Amnesty's Stop Torture campaign launched last May. This has previously included reports on torture in Mexico, Nigeria, the Philippines and Uzbekistan.  Amnesty's 2014 annual report on human rights reported torture and other ill-treatment in 82% of countries covered (131 out of 160). For more information, go
here
.