EU border agency figures show scale of 'refugee crisis'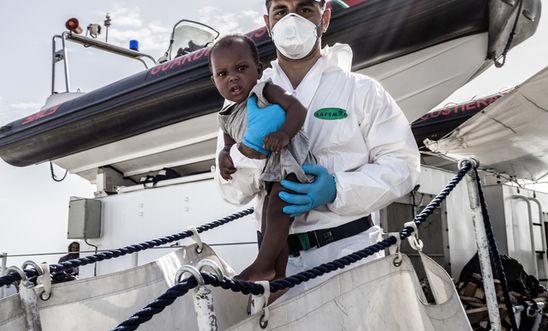 The Italian coastguard has rescued thousands of people from the Mediterranean © Giles Clarke/Getty Images Reportage
Theresa May should drop 'tough' rhetoric and focus on 'how UK can save lives' during her Calais visit tomorrow
Responding to new
figures
from the European Union's border agency Frontex highlighting the unprecedented scale of Europe's refugee crisis, Amnesty International has reiterated its call for the creation of safe and legal routes to the EU for desperate people seeking protection.
Frontex says it recorded 107,500 irregular crossings into the EU last month, the first time that the number has exceeded 100,000 since the agency began keeping such records in 2008. The figure was more than three times higher than in July 2014. Frontex said that people fleeing conflict in Syria and Afghanistan accounted for "the lion's share" of the numbers.
Overall, from January-July this year, Frontex recorded 340,000 irregular crossings of migrants and asylum-seekers to the EU, almost three times the equivalent figure for the same period in 2014. The 107,500 crossings recorded in July marks the third consecutive monthly record.
Amnesty International UK's Refugee Programme Director Steve Symonds said:
"Frontex's figures couldn't be clearer - Europe can't avoid the biggest global refugee crisis since the Second World War.

 

"We need to see the creation of safe and legal routes for those trying to enter Europe so they don't have to risk drowning in the Mediterranean or being crushed under lorries at Calais. 

 

"The UK should be playing a far more constructive part in this crisis, including by working with our EU partners to see how Britain can provide protection to some of the desperate people fleeing conflict and persecution.

 

"When Theresa May goes to Calais tomorrow she should drop the 'tough' rhetoric on refugees and start talking about how the UK can save lives and protect the vulnerable."