Eric Cantona's new documentary 'Looking for Rio' to premiere at Amnesty UK's first ever football film festival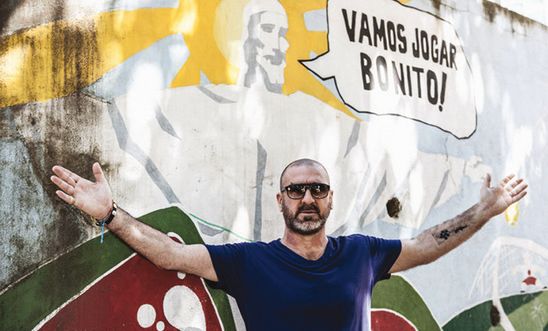 The UK premiere of former Manchester United legend Eric Cantona's compelling new documentary about the passion and fury surrounding football in Rio de Janeiro will take place at Amnesty's first ever football film festival, Sidelines, in London just before the start of the World Cup in Brazil. See what's on
The festival, which runs from Friday 6 - Sunday 8 June at Hackney Picturehouse, will be a celebration of thought-provoking films, lively Q&A's and panel discussions, aimed at bringing the two worlds of football and human rights together.
The festival is a partnership between Amnesty International UK, Picturehouse Cinemas and football quarterly The Blizzard.
Cantona's hour-long documentary 'Looking for Rio' charts the development of Rio's four main football clubs – Fluminense, Vasco de Gama, Flamengo and Botafago – the intense rivalries between them and the social context in  which they came into being. The film looks at the complex relationship Rio has with football where government spending on the World Cup has forced Brazilians on the streets in protest.
The screening will be followed by an 'in conversation' with Eric Cantona and his brothers Joel and Jean-Marie, who together form the 'Canto Bros' production company behind the film.
Eric Cantona said:
"I'm very pleased 'Looking for Rio' is having its UK premiere at Amnesty's 'Sidelines' film festival as lots of the issues that come up in the film are ones Amnesty is concerned about.

"I love Brazil and the Brazilian people. It is a fascinating, wonderful country and there is probably no other place in the world as crazy about football. In that way it is the perfect location for the World Cup, but it is also a country that has a lot of problems - poverty, racism, not enough money spent on schools, hospitals and public transport - and all of that needs to change for Brazil to be the world player it seems to want to be.

"Documentary film can be a very powerful way to explore and expose what's going on in a country - the good and the bad – by showing people important issues they might not otherwise get to see. It can add also to international pressure for change. I really hope 'Looking for Rio' does both."
Amnesty International's UK director Kate Allen said:
"I'm delighted that Eric has come on-board for Amnesty's first ever football film festival. So often, human rights have fallen by the wayside in the frenzy of sporting glory. We saw it this year in Sochi and it's happening again in Brazil, Qatar and beyond.

"Amnesty has been campaigning around sporting events for some time and our work has never been more important than it is now. Through captivating documentaries and panel debates, Amnesty's film festival is set to influence, inspire and unite the two worlds of sport and human rights."
Other documentaries to be shown at the festival document the ups and downs of the Egyptian national side during the Arab Spring, the non-Jewish Ajax fans in the Netherlands who call themselves Jews, Spanish Civil War refugees who became the first Spaniards to play professional football in England and the Argentinian women players fighting for recognition by their families, friends, clubs and the country's Football Association.
Panel debates over the weekend will look at racism and homophobia in football, the responsibility major sports bodies have to challenge human rights abuses in host countries and women in football.
Clare Binns, Head of Programming at Picturehouse Cinemas, said:
"Picturehouse are thrilled to be partnering with Amnesty on this festival: the work they do on sport and human rights is vital, and the fantastic selection of films on show is a great way to highlight this in the build-up to the World Cup."
Jonathan Wilson, Editor of The Blizzard, said:
"We're delighted to team up with Amnesty International, whose work reminds us how fragile the freedom of speech journalists so often take for granted can be."
Find out about all the films and events that are part of our Sidelines film festival