Egypt's plan for mass surveillance of social media is a 'recipe for disaster'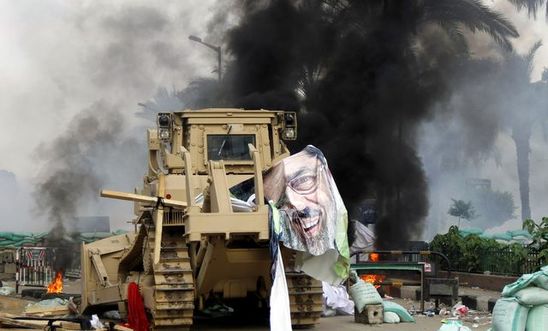 Torn poster of deposed Egyptian President Morsi © REUTERS/Mohamed Abd El Ghany
'Putting such equipment in the hands of unaccountable security forces is a recipe for abuse' - Hassiba Hadj Sahraoui
A call for tenders to introduce a new system to carry out mass surveillance of social media in Egypt would deal a devastating blow to the rights to privacy and freedom of expression in the country, Amnesty International has said.
Under the proposed plans, disclosed in a leaked tender by the Interior Ministry this week, Facebook, Twitter and YouTube - and possibly mobile phone applications such as WhatsApp, Viber and Instagram - would be systematically monitored. 
The call for tenders refers to a sophisticated mass monitoring system which would scan social media networks for 26 topics, including defamation of religion, calling for illegal demonstrations, strikes and sit-ins, as well as terrorism and inciting violence, though the full list of topics has not been made public.
Amnesty International Middle East and North Africa Deputy Director Hassiba Hadj Sahraoui said:
"Putting such equipment in the hands of unaccountable security forces is a recipe for abuse.

 

"The Egyptian authorities have an abysmal track record when it comes to respecting the right to freedom of expression, association and assembly. 

 

"A system to conduct indiscriminate surveillance of social media on a mass scale risks becoming yet another instrument in the Egyptian government's toolbox of state repression."
Amnesty is calling for the Egyptian government to ensure that any surveillance programmes comply with the general principles under international law of legality, necessity, proportionality and judicial accountability. Presently, the proposed programme violates the right to privacy guaranteed by both the Egyptian constitution and international law. Egyptian law only allows targeted interception of communications under judicial oversight and for a limited period of time and does not permit indiscriminate mass surveillance.  
Amnesty recognises that in some cases states may legitimately need to resort to targeted covert surveillance for reasons of national security. However indiscriminate mass surveillance is an disproportionate interference with the right to privacy. Any surveillance of communications, including through social media, must comply with human rights law obligations which balance the duty of the state to protect security with the right to privacy, freedom of expression and other human rights. Despite repeated claims by the Egyptian authorities that the measures are intended to combat terrorism and would not be used to crackdown on freedom of expression, there is an alarming body of evidence to undermine this claim.   
Thousands already held
Over the past year the authorities have waged a full-scale clamp down on critical voices, introducing a repressive new protest law and drafting an overly broad and vague anti-terrorism legislation. Electronic communications have been monitored by successive Egyptian governments in the past. Activists have also been arrested and prosecuted for content they have posted on social media. 
Thousands of Mohamed Morsi's supporters are already held in Egyptian prisons for exercising their right to freedom of expression and assembly. Amnesty has documented cases where peaceful protestors have been arrested, tortured or ill-treated. Dozens of Egyptians have also been arrested for electronic communications and posts including on YouTube, Facebook or Twitter. 
Leak of social media plans 
On 1 June, the Egyptian Al Watan newspaper published a leaked call for tenders from the Interior Ministry seeking companies to establish a system for "monitoring social media". Mohamed Ibrahim, the Minister of Interior, confirmed in Egyptian media that the ministry had called for tenders from companies to establish the system allegedly to combat terrorism and protect national security. In a statement to the Al Ahram News Paper on 2 June he said that the system would use selectors (search terms) that relate to activities that are considered illegal under Egyptian law to track individuals using these words in their communications. He claimed that this system would not be used to crackdown on freedom of expression.