Egypt: today's confirmation of 183 death sentences is 'outrageous'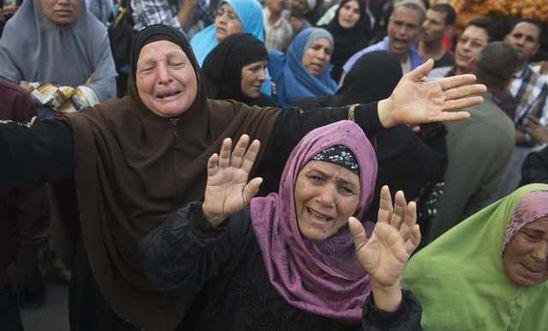 Anguished reactions to the handing down of death sentences for Muslim Brotherhood leaders last year © KHALED DESOUKI/AFP/Getty Images
415 people have now been sentenced to death in four trials 
The death sentences handed down to 183 people in Egypt today following grossly unfair trials are a further sign of Egypt's disregard for national and international law, says Amnesty International today. 
In December, the Giza criminal court had convicted 188 people of involvement in the killing of 11 police officers in relation to attacks on Kerdassa Police Station in Giza in August 2013. The final verdict was issued today following consultation with the Grand Mufti. 
So far, 415 people have been sentenced to death in four trials for the killing of police officers, while the case against former President Hosni Mubarak, involving the killing of hundreds of protesters during the uprising, has been dropped. To date no security officers have been held to account for the killing of 1,000 protesters in August 2013. 
The capital trial was held in Tora Police Institute rather than a courtroom, and all of the witnesses were either police officers or families of the police officers. The families of the defendants were unable to attend. 
The defence panel also told Amnesty that not all of the defendants were brought to the hearings. Those who were were unable to hear the trial proceedings or communicate with their legal team because of a large, dark glass screen separating them from the rest of the courtroom. The defence panel also said they were not able to cross-examine prosecution witnesses during the trial and the judge did not summon all the witnesses. 
Today's confirmed sentences come after a nationwide media campaign in Egypt calling for the execution of those involved in attacks on police and military, which gathered pace following last week's attacks in the Sinai Peninsula.
Amnesty International Middle East and North Africa Deputy Director Hassiba Hadj Sahraoui said:
"To impose death when there are serious doubts hanging over the fairness of the trial is outrageous and flouts international law.

 

"Issuing mass death sentences whenever the case involves the killing of police officers now appears to be near-routine policy, regardless of facts and with no attempt to establish individual responsibility.

 

"Not allowing the families or public to attend the trial was in contravention of national and international law, and holding the trial in a prison complex undermined the presumption of innocence and the right to a fair and public hearing.

 

"These verdicts and sentences must be quashed and all of those convicted should be given a trial that meets international standards of fairness and excludes the death penalty."