Egypt: prosecutor's killing despicable but should not be pretext for state repression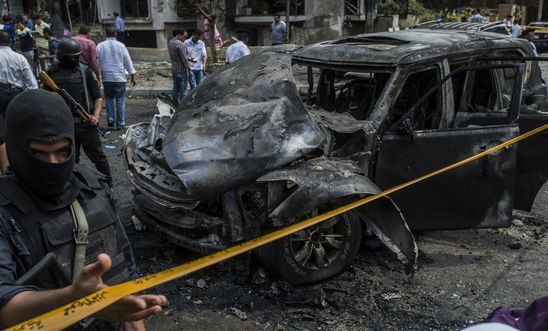 © AFP/Getty
'The killing of Public Prosecutor Hisham Barakat was a despicable, cowardly and cold-blooded act of murder' - Said Boumedouha
The perpetrators of a bomb attack in Cairo this morning which killed Egypt's Public Prosecutor and injured five of his bodyguards and one other by-stander must be brought to justice, Amnesty International said. 
Hisham Barakat was being driven to central Cairo from his home in the district of Heliopolis early this morning when a car bomb exploded next to his convoy, setting fire to many cars. He later died in hospital of his injuries.
A little-known group called Giza Popular Resistance reportedly claimed responsibility for the attack on its Facebook page but hours later retracted it. Today's killings came a day before the anniversary of a street protest by millions of Egyptians that had demanded the ousting of then President Mohamed Morsi, leader of the Muslim Brotherhood. 
Last month more than 500 "Islamic scholars and organisations" across the world had launched a signed online statement urging supporters to kill government officials in Egypt's judiciary, police and the army. The statement, named "Nedaa Al-Kenana", came amidst a deteriorating human rights situation with violations committed by the Egyptian security forces. 
The assassination of the Public Prosecutor today is not the first of its kind - three judges were shot dead and two were injured in North Sinai in May, after a criminal court recommended a death sentence against Mohamed Morsi. Scores of ordinary people have also been killed and injured in numerous attacks on security forces since July 2013, when Morsi was ousted. At least 600 members of Egypt's police and armed forces have also been killed since then, particularly in the North Sinai. 
Amnesty International Middle East and North Africa Deputy Director Said Boumedouha said:
"The killing of Public Prosecutor Hisham Barakat was a despicable, cowardly and cold-blooded act of murder.

 

"If the rule of law is to prevail in Egypt, judges and prosecutors must be free to do their jobs without the threat of violence. 

 

"However, the Egyptian authorities must not use such threats as a pretext for trampling upon human rights."