Egypt: Al Jazeera journalists should be released entirely, not just on bail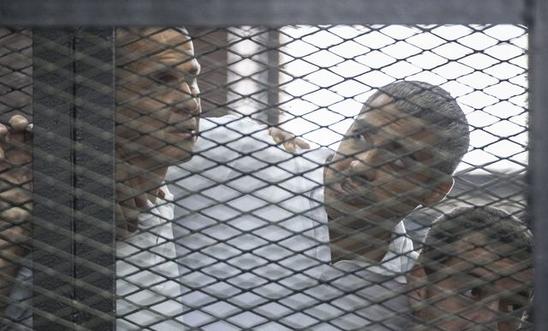 Peter Greste (L), Mohamed Fahmy (C) and Baher Mohamed (R) in court listening to their guilty verdicts last year © AFP/Getty Images
'The authorities should put an immediate end to their torment by dropping the charges and releasing them immediately and unconditionally' - Hassiba Hadj Sahroui
Amnesty International has reiterated its call for the release of the Al Jazeera journalists Baher Mohamed and Mohamed Fahmy, after they were temporarily released - one on bail - following the adjournment of their retrial in Cairo today.
With the case adjourned until 23 February, both men were released until then, with Mr Fahmy required to meet £22,000 bail conditions. 
Amnesty International Deputy Middle East and North Africa Director Hassiba Hadj Sahroui said:
"The authorities should put an immediate end to their torment by dropping the charges and releasing them immediately and unconditionally.

 

"It is crucial that Baher Mohamed and Mohamed Fahmy's continuing ordeal is not forgotten, particularly now that their Australian colleague Peter Greste is a free man. 

 

"Like him, they are guilty of nothing more than carrying out their jobs as journalists."
Flawed trial and an international outcry
Baher Mohamed and Mohamed Fahmy, who have already been in prison for more than a year, are facing the re-trial after having had earlier convictions - after a deeply flawed trial - overturned earlier this year. Meanwhile, their Al Jazeera colleague Peter Greste was released on 1 February after seeking deportation under Egyptian legislation permitting the transfer of foreign nationals to their home countries to face trial or serve their sentences in cases of the "highest interest of the state". 
The convictions of all three men were overturned by the Court of Cassation on 1 January on procedural grounds and a re-trial was ordered. They had been serving sentences for broadcasting "false news" and alleged ties to the banned Muslim Brotherhood movement. The three men's arrest and conviction has caused an international outcry.