Egypt: 43 NGO workers acquitted in notorious 'foreign funding' case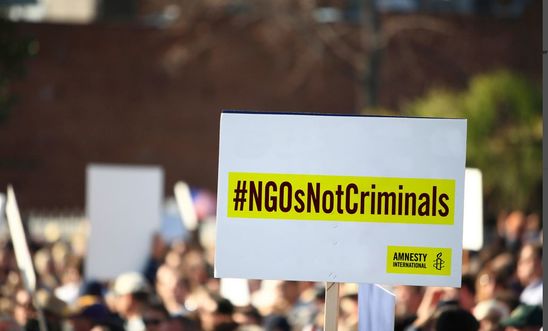 NGOs have been heavily targeted in Egypt © Amnesty International
'Case 173' was part of an ongoing crackdown on NGOs and human rights defenders in the country
'This was a bogus case' - Najia Bounaim
Responding to news that an Egyptian court has acquitted 43 defendants in the country's notorious "foreign funding" case (also known as Case 173), Najia Bounaim, Amnesty International's North Africa Campaigns Director, said:
"Today's acquittal of all 43 NGO workers in the first 'foreign funding' case is a step in the right direction for Egyptian justice. 

"This was a bogus case that targeted human rights defenders simply for doing their legitimate work and should never have happened in the first place. 

"However, today's ruling only relates to the first phase of the case which investigated the funding of international organisations; the investigation into local Egyptian NGOs is ongoing and dozens of staff are still at risk.  

"Since the 'foreign funding' case was opened, Egyptian human rights defenders have been treated as enemies of the state and subjected to an unprecedented crackdown, including asset freezes, travel bans and prosecutions. 

"The key test now will be whether today's court decision paves the way for an end to the persecution of all human rights defenders in the country. 

"The Egyptian authorities must lift all travel bans and asset freezes against NGO staff, and drop their investigations into Egyptian NGOs and human rights defenders for their legitimate human rights work."
Case 173 part of ongoing anti-NGO crackdown
This morning, South Cairo Criminal Court acquitted all 43 defendants in the case, which was a retrial of an earlier one. In June 2013, the first phase of the investigation into NGO funding (Case 173 of 2011) concluded when 42 foreign and Egyptian NGO workers were sentenced to prison terms of between one and five years, and a series of international NGOs were closed. 
Since 2014, investigative judges in Egypt have been conducting a criminal investigation into the work and funding of local NGOs, and have issued asset freezes against six organisations and ten human rights defenders. They have banned at least 30 human rights defenders and NGO staff from travel abroad. The judges have also summoned at least six directors and 61 civil society organisation staff for interrogation and later ordered their release on bail. 
EU pressure needed
An EU-Egypt Association Council meeting is taking place in Brussels today and Amnesty is calling on all EU states to use this as an opportunity to call for an end to the coordinated criminal investigation of Egyptian NGOs.