Eastern Ukraine: humanitarian disaster looms as food aid blocked by pro-Kiev battalions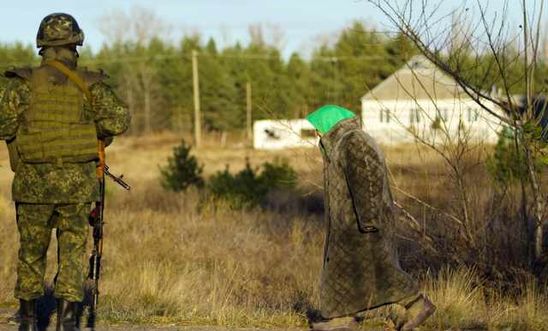 A Ukrainian soldier watches as a woman goes to vote in Raygorodka village, near Lugansk, on 26 October © ANATOLII BOIKO/AFP/Getty Images
'Using starvation of civilians as a method of warfare is a war crime' - Denis Krivosheev
Pro-Kiev volunteer battalions are increasingly blocking humanitarian aid into eastern Ukraine in a move which will exacerbate a pending humanitarian crisis in the run up to Christmas and New Year, said Amnesty International today (24 December).
Amnesty has received information that the pro-Kiev battalions, which include the Dnipro-1 and the Aidar battalions, have blocked aid entering territories controlled by the self-proclaimed Donetsk and Luhansk People's Republics. 
The Dnipro-1 volunteer battalion, along with members of the Donbass battalion and the Pravyi Sector militia, are reported to have blocked 11 roads leading into the Donetsk People's Republic-controlled territory. They've refused to allow most aid convoys through, saying they believe food and clothing are ending up in the wrong hands and may be sold instead of being given as humanitarian aid. They are also insisting on the release of prisoners held by the separatist forces as a condition for allowing humanitarian aid through. 
Last week at least four convoys sent by the humanitarian foundation of Rinat Akhmetov, one of Ukraine's richest men, were blocked on the roads leading to the separatist-controlled territory by the Dnipro-1 battalion. After stopping one of the convoys Vladimir Manko, deputy commander of the Dnipro-1 battalion, told Ukrainian media: "It turns out that we're at war with them and we're spilling our blood, but in the same time we're feeding them."
An aid worker from the Luhansk Region has informed Amnesty that the Aidar battalion is also stopping and searching cars that travel from Starobil'sk to Luhansk and vice versa. Members of the battalion, which was previously implicated in arbitrary detention and torture, are reportedly stopping food and medicines getting through to the region. The aid worker recalled a particular case when medicines for four elderly people in Krasnodon, who are suffering from heart and blood pressure conditions, were snatched from a bus at a checkpoint. 
Over half of the population in the affected areas are now entirely dependent on food aid, as wages, pensions and social benefits are not being paid regularly as a result of the seven-month-long conflict. The Kiev authorities' decision last month to essentially cut the region off from the Ukrainian financial system is also adding to the hardship of the local population. 
Amnesty International's Acting Europe and Central Asia Director Denis Krivosheev said:
"As winter sets in, the already desperate situation in eastern Ukraine is being made even worse by the volunteer battalions preventing food aid and medicine from reaching those in need.

 

"These battalions often act like renegade gangs and urgently need to be brought under control. 

 

"Checking the content of humanitarian convoys crossing frontline is one thing. Preventing it is another. Attempting to create unbearable conditions of life is a whole new ballgame. Using starvation of civilians as a method of warfare is a war crime.

 

"It is no secret that the region is facing a humanitarian disaster with many already at risk of starvation."
Gruelling conflict
The population of the region has suffered from seven months of fighting between Kiev-controlled and pro-Russian separatist forces. Over 4,700 people have died and thousands more live in fear of being caught in the crossfire or being entirely cut off from vital food and medical supplies. Amnesty is reiterating its call for the Ukrainian authorities to rein in the volunteer battalions and to ensure that humanitarian aid reaches those who desperately need it.