'Diego Garcia used for CIA interrogations' allegations must be investigated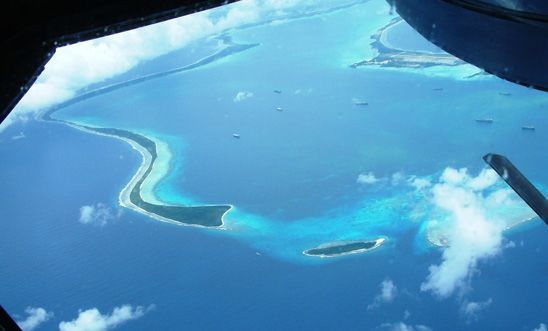 Diego Garcia photographed from a KC135 © flickr.com/whetzel, used under a creative commons licence
'If detainees were being held, interrogated and even tortured on the atoll, then UK officials have a lot of questions to answer' - Kate Allen
The UK authorities must respond urgently to reported remarks by a former official in the George W Bush Administration that interrogations of CIA detainees took place at the UK overseas territory of Diego Garcia in the Indian Ocean, Amnesty International said.
Lawrence Wilkerson, the Chief of Staff to the former US Secretary of State Colin Powell, told Vice News that after leaving office in 2005, intelligence sources had informed him that Diego Garcia had been used as a site "where people were temporarily housed and interrogated from time to time."
It has been reported that the UK had lobbied for the US Senate Intelligence Committee's recent report on the CIA's use of torture to be cleaned of any references that might lead back to the UK. 
Amnesty International UK Director Kate Allen said:
"Lawrence Wilkerson's claims are extremely serious and need to be thoroughly investigated as part of a judge-led inquiry into mounting allegations that the UK was either complicit in or at the very least negligent over torture and other human rights abuse during the  'war on terror'.

"Diego Garcia is a UK overseas territory - if detainees were being held, interrogated and even tortured on the atoll, then UK officials have a lot of questions to answer."
Amnesty and other human rights organisations are insisting that the UK's current inquiry - by the parliamentary Intelligence and Security Committee - into allegations of UK complicity in the abuse of detainees held overseas is not independent and will be undermined by the fact that the government has absolute discretion to withhold information from the ISC's findings based on national security considerations. 
Campaign for a UK inquiry
Over 25,000 people have supported an Amnesty campaign calling on the UK government to allow an independent judge-led inquiry into longstanding allegations of UK involvement in the US-led rendition and detentions programme as well as other aspects of the "war on terror" counter-terrorism operation. Shortly after taking office in 2010, the Prime Minister David Cameron pledged to initiate such an inquiry, but this commitment has since been converted into an inquiry by the Intelligence and Security Committee, which lacks the necessary powers and independence from government.