Diary notice: Ged Killen MP to call for Westminster to deliver on marriage equality in Belfast Pride speech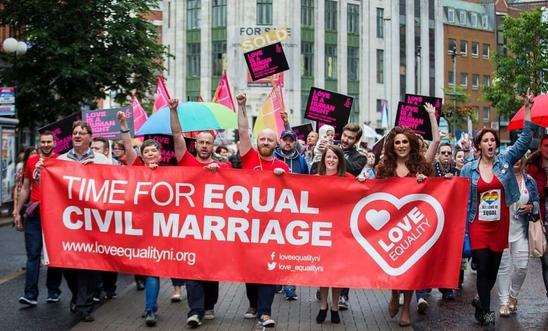 EVENT: THURSDAY 02 AUGUST 2018
'When I take off from Glasgow Airport I am a married man, but when I step off the plane in Belfast my marriage will no longer be recognised under Northern Irish law' – Ged Killen MP
Thursday 02 August, Belfast:
10:45:  Photo opportunity as Ged Killen MP meets LGBTI+ activists with rainbow flags and placards
19:30: Ged Killen MP to deliver keynote speech at Amnesty International's Belfast Pride lecture
Scottish Labour MP Ged Killen will deliver a keynote speech in Belfast on Thursday that will put pressure on the UK Government to extend marriage equality to Northern Ireland.
Since Northern Ireland has been without a devolved government for eighteen months now, the urgency for Westminster to intervene on issues of equality and human rights in Northern Ireland is increasing. 
Speaking at Amnesty International's Belfast Pride lecture which is part of the city's week-long Pride festival, Ged Killen MP will set out why he is taking a leading role in the campaign for equal marriage legislation in the House of Commons, and will call on Prime Minister Theresa May to intervene to ensure equality for the LGBTI+ community in Northern Ireland.
For Mr Killen – whose own marriage to a Northern Irish man will not be recognised when they touch down in Belfast - this is both a personal and political issue.
Ged Killen said:
"When I take off from Glasgow Airport I am a married man, but when I step off the plane in Belfast my marriage will no longer be recognised under Northern Irish law.
"It can't be right that people separated by a small amount of sea are treated so unequally. The law must change to make sure everyone – no matter where they live – has equal access to marriage.
"Backbench MPs and peers from across parties are leading a campaign to push Westminster to change the law. We need the government to live up to its responsibility to stand up for equality."
In advance of the lecture on Thursday Morning, Ged Killen will meet members of the LGBTI+ community in Belfast and representatives from the main LGBTI+ organisations in Northern Ireland, including the Rainbow Project, Cara-Friend and HereNI.
Details:
Photo opportunity: Ged Kellen MP meets LGBTI+ activists
WHAT: Photo call with rainbow flags, Amnesty International and Love Equality placards
WHERE: on the cobbles in Commercial Court, Belfast (outside Duke of York pub)
WHEN: 10:45am, Thursday 2 August
WHO: Ged Killen MP. Local LGBTI+ community members. Patrick Corrigan (Amnesty International).
Amnesty Belfast Pride lecture
WHAT: Ged Killen MP delivers keynote speech at Amnesty Belfast Pride event, "Marriage equality: winning at Westminster"
WHERE: Emeleus Lecture Theatre, Queen's University Belfast
WHEN: 7:30pm, Thursday 2 Augus
Interviews with Ged Killen MP or Amnesty International spokespeople can be arranged.