Derry Girls and MPs join suitcase march on Parliament to demand abortion rights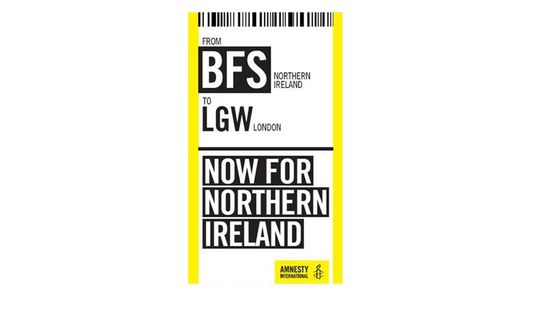 DIARY NOTICE - NORTHERN IRELAND ABORTION RIGHTS DEMO: TUESDAY 26 FEBRUARY 2019
28 women - the number of women who fly from Northern Ireland for an abortion each week - will march with suitcases to Parliament
Derry Girls actors and MPs including Diana Johnson, Heidi Allen, Karin Smyth and Christine Jardine will join the march
They will deliver Amnesty's 62,000-strong petition to Westminster's Northern Ireland Office
Interview opportunities: Derry Girls cast;  women impacted by Northern Ireland's abortion law; Amnesty spokespeople, MPs.
Timings: Tuesday 26 February 2019
The march on Westminster

will begin at the south side of

Westminster bridge

and continue around

Parliament Square

before heading to the

Northern Ireland Office;

Petition hand-in and photo opportunity

in front of the Northern Ireland Office.
On Tuesday (26 February), 28 women – representing the number of women who travel from Northern Ireland to England or Wales for an abortion each week – will join a 'suitcase march' demonstration to hand in Amnesty International's petition to the Secretary of State for Northern Ireland demanding that abortion is decriminalised in the region.
The 28 women – including Derry Girls cast members Siobhan McSweeney and Nicola Coughlan; women who have been affected by Northern Ireland's restrictive law; cross-party MPs including Karin Smyth, Diana Johnson, Heidi Allen and Christine Jardine; and abortion rights activists – will walk with suitcases from Westminster Bridge, around Parliament Square, to the Northern Ireland Office.
Each suitcase will contain sheets of paper with the names of 62,000 people calling for the decriminalisation of abortion in Northern Ireland. The 28 demonstrators will deliver the signatories to the Northern Ireland Secretary of State by posting the names into a large Perspex box outside the Northern Ireland office.
There will then be a photo opportunity with the women holding their suitcases - which will be covered in airport luggage-style stickers with messages reading 'BFS-GTW' and 'NOW FOR NORTHERN IRELAND' – and placards which say, 'Abortion is not a crime' and '62,000 call on Northern Ireland Secretary to act now'.
Abortion rights groups including Family Planning Association, Marie Stopes, and BPAS will also be joining Amnesty's march.
Quotes from Derry Girls, MPs and women taking part:
Siobhan McSweeney, who plays Sister Michael in TV series Derry Girls, said:
"The North has been neglected for too long. It makes me so angry that women there are being denied bodily autonomy and health care services available to others in the rest of the UK and Ireland – they have reproductive rights too. I'll be here fighting alongside Amnesty for Northern Ireland until the degrading law there is changed. It has to happen soon."
Nicola Coughlan, who plays Clare Devlin in Derry Girls, said:
"It was such a proud moment when we Repealed the 8th in Ireland but it's now time our sisters in Northern Ireland get the change so desperately overdue. Let's do this for women everywhere. Women who have abortions are not criminals, it's time the law stopped treating them as such."
Grainne Teggart, Amnesty's Northern Ireland Campaign Manager, said:
"62,000 people are calling on the Northern Ireland Secretary of State to decriminalise abortion. They recognise the grave harm caused by the existing law and want change.  

"All eyes are firmly on the Secretary of State to see how she'll respond. For too long our demands for equality have been ignored and our rights sacrificed for political expediency.

"The time for change is now. Northern Ireland cannot be left behind as the only part of the UK and Ireland with a near total ban on abortion. It's 2019 - time we had laws that respect and value women's lives."
To arrange a media interview, please contact:
Ella Berny: 0207 033 1548: ella.berny@amnesty.org.uk
Out of hours: 07721 398984