Denmark: Nationwide demonstrations planned against deportation of Syrian refugees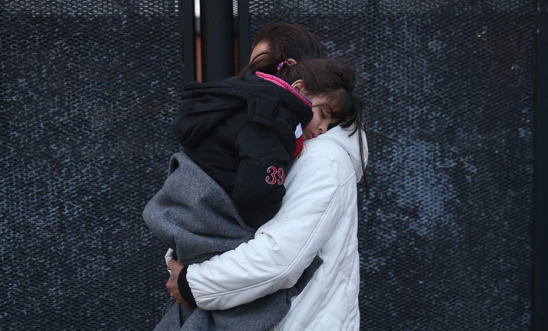 Refugees from Syria © Sean Gallup/Getty Images
Large demo to take place in Copenhagen tomorrow
At least 39 Syrians in country have received their final assessment and are now in position to be deported
'Our research shows that Syrians who have been sent back are routinely subjected to interrogation by Syrian security forces' - Dan Hindsgaul
Thousands of people in Denmark are expected to attend demonstrations and protests in 25 cities across Denmark tomorrow (19 May) to oppose the Danish government's withdrawal of residence permits for Syrian refugees.
Hundreds of Syrian refugees - including children - have been told by the Danish Immigration Service to return to Syria after a government decision that Syria is safe for such returns, a decision which is in stark contrast to assessments from international Syria experts and the UN Refugee Agency.
Although military hostilities have diminished in Syria, people in the country continue to face persecution and human rights abuses - including in Damascus and the surrounding areas.
Among those taking part in tomorrow's protests is Dr Haifaa Awad, who was born in Damascus and now lives in Denmark working as a physician.
Dr Awad said: 
"In Damascus, the Assad regime has consolidated its power now - not with bombs, but with horrific human rights violations, extremely arbitrary arrests and extensive torture laboratories.

"Can our Prime Minister Mette Frederiksen guarantee the lives of Syrian refugees when they cross the border when the UN and the United States cannot? "
Dan Hindsgaul, Acting Secretary General of Amnesty International Denmark, said:
"It is difficult to comprehend that the Danish authorities, contrary to virtually everyone else, have reached the conclusion that Damascus and the surrounding area are safe enough to return to.

"Our research shows that Syrians who have been sent back are routinely subjected to interrogation by Syrian security forces. The security forces are known and notorious for being behind arbitrary detention, torture and murder. To send people back to such a risk is contrary to Denmark's human rights obligations."
Copenhagen demonstration
In Copenhagen, a demonstration will take place in Town Hall Square from 4.30pm, with speeches from Dr Haifaa Awad, author Carsten Jensen and Mohamed Alata, one of the young Syrians who has had his residence permit revoked.
Amnesty is inviting supporters around the world to write to the Danish Minister of Immigration and Integration calling for the ongoing protection of Syrian refugees in Denmark at https://www.amnesty.org/en/documents/eur18/4010/2021/en/.