Cuts to legal aid have 'decimated access to justice' for thousands of the most vulnerable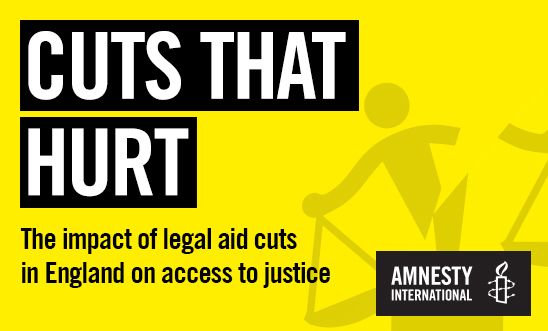 'If Theresa May is really determined to deliver a country that works for all then there needs to be a justice system for everyone, not just those who can afford it' – Alice Wyss
Call for Government to launch promised review of LASPO immediately
Call for all under-18s to be given legal aid
Cuts to civil legal aid have 'decimated access to justice' and left thousands of the most vulnerable, including children and people with learning difficulties, without essential legal advice and support, Amnesty International said today (Tuesday 11 October) as it published a damning new report on legal aid.
The 48-page report 'Cuts that Hurt: The impact of legal aid cuts on access to justice' exposes the impact of the Legal Aid, Sentencing and Punishment of Offenders Act (LASPO) which came into force on 1 April 2013 and imposed wholesale changes to the legal aid system for family and other areas of civil law in England and Wales. The report warns that the reduction in access to justice is far worse than anticipated, and calls for the government to urgently launch a comprehensive review into the effects of the changes, which it has not yet undertaken despite having committed to doing so.
Civil legal aid is now only available for a narrow number of prescribed types of case. The report documents:
the impact of the withdrawal of legal aid in areas including private family law, immigration and welfare benefits law, documenting the disproportionate impact on vulnerable and marginalised groups;
how the cuts reduced access to early specialist legal advice; people too often now have to reach crisis point before they can access the help they need;
the emergence of "advice deserts" across England and Wales where the provision of free legal advice is disappearing, particularly in the South West, parts of the Midlands and areas in the North of England.
how systemic and inherent failings in the government's scheme of Exceptional Case Funding means that it is not providing the promised safety net for vulnerable or disadvantaged people who are struggling to navigate complex legal processes and effectively advocate for their rights
The year before the relevant provisions of LASPO came into force, legal aid was granted in 925,000 cases; the year after it came in to force, assistance was given in 497,000 cases, a staggering drop of 46 per cent.
Alice Wyss, Amnesty International's UK researcher said:
"Cuts to legal aid imposed by this Government have decimated access to justice and left thousands of the most vulnerable without essential legal advice and support.

"We are in danger of creating a two-tier civil justice system, open to those who can afford it, but increasingly closed to the poorest and most in need of its protection. 

"From parents fighting for access to their children, to those trying to stay in the country they have grown up in, and to people with mental health problems at risk of homelessness, these cuts have hit the most vulnerable, the most.

"If Theresa May is really determined to deliver a country that works for all then there needs to be a justice system for everyone, not just those who can afford it. The government must start by protecting the most vulnerable and launching a review of this failing system immediately."
The report includes testimony from individuals who have not been able to access legal aid. For example, people representing themselves at the family court spoke about the fact that they felt intimidated, that they found it difficult to explain their case and that they struggled to understand the process and what the judge was telling them. When the other side was properly represented in court people often said that they felt the process wasn't fair or equal. One woman told Amnesty:
 "I don't have anyone. When I go to court I have to cross-examine my ex. That terrifies me. I have so many sleepless nights. If I lose I know I will blame myself, it's because I wasn't good enough, but then I think how can I be good enough when I'm up against a barrister. I just don't know if I can do it on my own and I have looked and asked everywhere for help but everything needs money and I don't have it. So what am I meant to do?"
Children and vulnerable young people are one of the groups detrimentally impacted by the cuts to legal aid. As the UK faces a legal challenge from the Children's Society, Amnesty is calling for all under-18s to be given legal aid, regardless of the circumstances. For example, the government estimates that there are almost 2,500 cases each year involving children as claimants in their own right who no longer get legal aid for their immigration cases. Children addressing their immigration claims on their own are at an automatic disadvantage as the laws, processes and systems governing their circumstances are profoundly complex. They require specialist advisors that are experienced not just in immigration law, but also with working with children. A lawyer told Amnesty:
"The idea that children and young people can represent themselves just does not work. This is such a vulnerable group. It's not just that they don't understand legal processes and legal concepts, which they don't, but it's also that they have no idea how to fill forms out properly, what to write, where to send paperwork, where to get advice and who to speak to. Without professional support they simply can't access justice and they can't engage with the legal process."
The government has committed to undertaking a wholescale review of the impact of LASPO by April 2018. Amnesty is calling for that review to commence immediately.