'Cry for help' from prisoner in Chinese forced labour jail alleged to have been found inside Primark trousers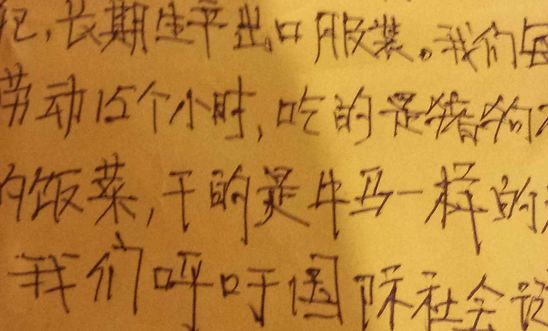 A section from the note © Amnesty International
A Northern Ireland shopper claims to have uncovered a horrific note in a pair of Primark trousers she bought in Belfast. The note alleges slave labour conditions in a Chinese prison making clothes for export.
The revelations came to light when Karen Wisínska from Co Fermanagh took her story to Amnesty International.
The handwritten note appealing for help from the international community was wrapped around a prison identity card, with the writer claiming to be a prisoner in the Xiang Nan Prison in China's Hubei Province and forced to work 15 hours a day.
The writer of the note goes on to appeal to the international community to condemn the Chinese government for a violation of the prisoner's human rights.
Mrs Wisínska says she bought the garment in the Primark store in Belfast city centre in June 2011 but claims to have only discovered the prison identity card and note pleading for help tucked into a trouser pocket this week when she retrieved the unworn item from a cupboard.
Mrs Wisínska said:
"I was shocked to find this note and card inside the trousers from Primark and even more shocked to discover that it appears to have been made under slave labour conditions in a Chinese prison. I am only sorry that I did not discover the note when I first purchased the clothing - then I could have brought this scandal to light much earlier."
Amnesty has previously documented the use of forced labour in its prison system, including in jails used to hold political prisoners.
Patrick Corrigan, Northern Ireland Programme Director of Amnesty International, said:
"It is a horrific tale. It's very difficult to know whether it's genuine, but the fear has to be that this is just the tip of the iceberg.

 

"There is no excuse for any UK company to be profiting from forced labour in Chinese prisons. They should be monitoring their supply chains and terminating contracts when they discover abuses.
"The Government should now amend its Modern Day Slavery Bill to require companies to keep their supply chains free of such abuses."
Full text of the note
The full text of the note translated into English is as follows:
"SOS! SOS! SOS!

 

"We are prisoners in the Xiang Nan Prison of the Hubei Province in China. Our job inside the prison is to produce fashion clothes for export. We work 15 hours per day and the food we eat wouldn't even be given to dogs or pigs. We work as hard as oxen in the field.

 

"We call on the international community to condemn the Chinese government for the violation of our human rights!"