Criminalisation of women in Northern Ireland becoming a 'grim trend' - second abortion pills court case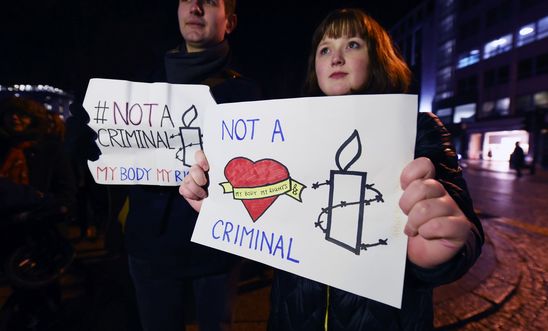 Campaigners protesting after a 21-year-old woman faced the courts in Belfast over her abortion © Charles McQuillan/Getty Images
'How many more women are we to see hauled into the dock before these archaic laws are consigned to the history books where they belong?' - Patrick Corrigan 
Amnesty International has called for a change to Northern Ireland's abortion law, which it branded "cruel and discriminatory", as another "abortion pills" case came before the courts in Belfast today concerning a woman accused of supplying pills to assist her under-age daughter to induce a miscarriage.
The 35-year-old woman was due to be arraigned at Belfast Crown Court this afternoon on two charges of procuring a poison or other noxious substance - namely Mifepristone and Misoprostol - knowing that it was to be used with the intention of securing a miscarriage. 
However, the case was adjourned until a future date due to legal wrangling over whether or not the case should be allowed to proceed in light. The woman, who cannot be named for legal reasons, was charged under the 1861 Offences Against the Person Act and could face a sentence of up to life imprisonment. Last month a 21-year-old Northern Ireland woman was given a three-month suspended prison sentence, after pleading guilty under the same law, to taking pills to procure a miscarriage.
Amnesty International Northern Ireland Programme Director Patrick Corrigan, who was in Belfast Crown Court today, said:
"The criminalisation of women in Northern Ireland is becoming a grim trend, with this second court case in a matter of weeks.

"How many more women are we to see hauled into the dock before these archaic laws are consigned to the history books where they belong?

"Northern Ireland's cruel and discriminatory abortion law must go.

"Reproductive healthcare must be taken out of the realm of criminal justice and addressed as an issue of public health and human rights. Abortion is a matter for women and their doctors, not police and judges."
Medicated abortion pills are internationally regarded as a safe and recommended option for terminating a pregnancy in the first trimester. Mifepristone and Misoprostol are on the list of essential medicines of the World Health Organisation. However, the criminalisation of abortion in Northern Ireland means that women and girls take these pills without effective medical supervision, therefore potentially resulting in serious health complications.
Amnesty's campaign for reform of the abortion law in Northern Ireland is here.