Crimea: 'ruthless' Russian authorities have crushed opposition to annexation - new report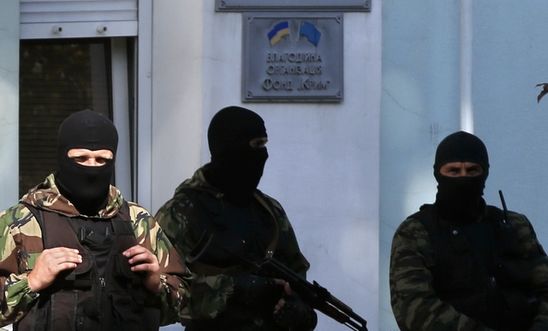 Members of the ethnic Tatar community in Crimea have borne the brunt of the Russian crackdown © Max Vetrov/AFP/Getty Images
Ethnic Tatars bearing brunt of crackdown, while opposition leader forcibly confined to psychiatric institution
'The cases documented in this report demonstrate the ruthlessness of the Russian authorities in brooking absolutely no dissent to their rule in Crimea' - John Dalhuisen
The Crimean Tatar community has been subjected to systematic persecution by the Russian authorities since the occupation and illegal annexation of Crimea by the Russian Federation, said Amnesty International in a new report published today.
Amnesty's report - In the Dark: The silencing of dissent - reveals the repressive tactics employed by the Russian authorities against the Crimean Tartar community and other dissenting voices in the two and a half years they've been in control in the Crimean peninsula.
Russia has imposed its legislation wholesale on the Crimean territory - in breach of international law - enabling the authorities to pursue key figures in the Tartar community on trumped-up anti-extremism and other charges. 
The Crimean Tartar's principle representative organisation, the Mejlis, has also been arbitrarily banned on the grounds that it's an "extremist organisation", and any association with it has been criminalised. Even before the Mejlis was outlawed, the de facto local and Russian authorities were pursuing prominent figures from the organisation. Its leader, Refat Chubarov was forcibly exiled from Crimea, as was his predecessor, Mustafa Dzhemiliev, a veteran Crimean Tatar human rights activist and vocal opponent of the occupation. 
Following the banning of the Mejlis, the authorities turned their attention to the remaining senior members of the organisation still in Crimea, including deputy leader Ilmi Umerov. After appearing in a TV interview in which he insisted that Russia should leave Crimea, Umerov was taken for questioning by officials from the Russian Federal Security Service. He was told he was being investigated for "threatening the territorial sovereignty of the Russian Federation." After several months under investigation, Umerov was forcibly confined to a psychiatric institution and placed in a closed ward for patients with severe conditions.
Another deputy leader, Akhtem Chiygoz, was arrested in January 2015, accused of having organised "mass disturbances" following street clashes between pro-Ukrainian and pro-Russian supporters in February 2014. According to media footage and eyewitness accounts, he was one of those attempting to keep the crowds apart to prevent violence. After spending more than 15 months in detention, his trial began in August. He has not been allowed to attend the court in person, participating instead via a poor Skype connection, meaning he cannot hear all that's being said in the courtroom or consult with his lawyer in private. His trial is ongoing.
Meanwhile, Ervin Ibragimov, a Crimean Tatar activist, disappeared on 24 May. He had been part of an organisation aimed at promoting the rights of Crimean Tatars and their cultural heritage following Crimea's annexation. Shortly before he went missing, he had told friends he was being followed.
Russia has also used its anti-terror legislation to target ethnic Crimean Tartars. Nineteen men, including human rights activist Emir-Usein Kuku, have been arrested and faced prosecution on charges of being members of the proscribed terrorist group, Hizb ut-Tahrir. Amnesty believes the charges against him - and quite possibly others - are unfounded.
Amnesty International's Europe and Central Asia Director John Dalhuisen said:
"The cases documented in this report demonstrate the ruthlessness of the Russian authorities in brooking absolutely no dissent to their rule in Crimea.

 

"As the most visible and cohesive group in Crimea opposed to the Russian occupation, the Crimean Tatar people have been deliberately targeted by the de facto local and Russian authorities in a wave of repression aimed at silencing their dissent and ensuring the submission of every person in Crimea to the annexation.

 

"All restrictions on the Meijlis must be lifted, and criminal proceedings designed to harass and intimidate its members and others that peacefully oppose the Russian occupation and annexation, should cease.

 

"The international community may have few tools to address the underlying politics, but it must speak up for those being bullied and harassed into silence."