Crimea: at least 20 Tatars detained in latest Russian crackdown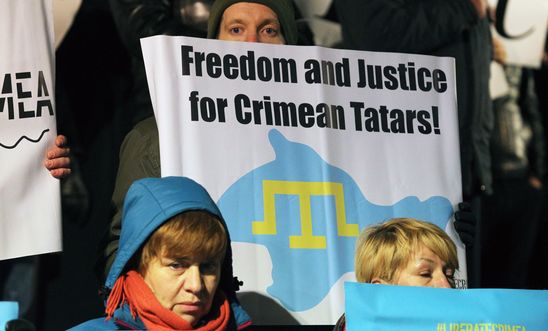 Protest in Kiev calling for justice for Crimean Tatars, on the fifth anniversary of Russia's annexation of Crimea © Pavlo Gonchar/SOPA Images/LightRocket via Getty Images
Russian forces conducted at least 25 searches in Tatar homes in Crimean capital Simferopol and elsewhere
Responding to news that Russian security forces in occupied Crimea have conducted extensive searches and detained ethnic community Tatars, Oksana Pokalchuk, Amnesty International Ukraine's Executive Director, said:
"The crackdown on the Crimean Tatar community, whose members are regarded as disloyal to the de facto Russian authorities, has continued unabated for five years. 

"The Russian authorities will use any means to suppress dissent, real or perceived, casting their net wide to target the Crimean Tatar community and silence dissenting voices. 

"The latest crackdown is one of the biggest acts of brazen intimidation of the whole community in recent months."
According to the de facto Crimean Directorate of the Russian Federal Security Service, earlier today law enforcement agents conducted searches and detentions to investigate the activities of Hizb ut-Tahrir, a religious group banned as "terrorist" in Russia but operating lawfully in Ukraine. 
Russian forces conducted at least 25 searches in the homes of ethnic community Crimean Tatars and detained at least 20 people. The searches were held in the Crimean capital Simferopol, the nearby village of Strohonivka, and the village of Volodymyrivka in the Bilohirsk district. 
In Simferopol's Kamyanka district, officers of the Russian Ministry of Internal Affairs cordoned off the neighbourhood and called on residents who assembled during the operation to disperse. According to media reports, the searches were conducted with multiple procedural violations. Residents were not allowed to enter their homes and their lawyers were not permitted to be present during searches.