COVID-19: Oxford vaccine a boost for global access, but inequality fears remain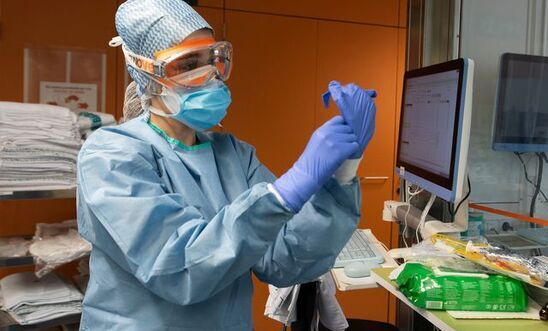 Oxford/AstraZeneca's deal for low and middle-income country distribution welcomed
Big pharma has responsibility to respect human rights
'Governments and companies need to start prioritising access for the rest of the world' - Steve Cockburn
Responding to news that the COVID-19 vaccine developed by Oxford University and AstraZeneca has shown 70% effectiveness in clinical trials - potentially increasing to 90% if the dosage is altered - Steve Cockburn, Head of Economic and Social Justice at Amnesty International, said:
"Oxford and AstraZeneca have promised 'broad and equitable access' to this vaccine, bringing hope to people around the word. The vaccine's low cost and easy storage should make fair distribution possible, and this is the first vaccine to include significant deals for distribution in lower-income countries.
"However, much more needs to be done to ensure that everyone, everywhere can benefit from these life-saving products, and without further action vaccine supply for lower-income countries will remain perilously low.
"This is the third vaccine to show promising results in recent weeks, and many wealthy countries have now bought up enough doses of these products to vaccinate their entire populations. Governments and companies need to start prioritising access for the rest of the world, sharing technologies widely and agreeing deals to ensure that stocks are available to protect everyone who needs it, no matter where they live."
Rich countries buying up vaccines
Oxford/AstraZeneca has said it is able to produce three billion doses in 2021, and is currently the only vaccine developer to have a deal with the global COVAX facility, on which most low and middle-income countries will rely for much of their vaccine supply.
In June, Oxford/AstraZeneca made a commitment to produce one billion doses for low and middle-income countries via a partnership with the Serum Institute of India. They have promised to sell the vaccine for no profit - at between $2 and $3 per dose - for the duration of the pandemic.
The USA has now secured orders for more than one billion doses of the three vaccines to have announced results so far - sufficient for more than three doses per person - while the UK, Canada and Japan have secured more than two doses per person of the three vaccines, in addition to deals for other vaccines still in development. Although the Oxford/AstraZeneca vaccine will provide a major boost to access in a number of countries, committed supplies for most low and middle-income countries still only cover a fraction of these countries' populations.
Doses of the Oxford/AstraZeneca vaccine have already been ordered by many countries, including the EU bloc (400 million), the USA (300 million), China (200 million), Japan (120 million), UK (100 million), Brazil (100 million), Indonesia (100 million), Australia (33.8 million), Egypt (30 million), Argentine (22 million) and Canada (20 million). A deal has also been struck with Mexico and Argentina to produce vaccines for countries in Latin America.
Big pharma's responsibility
Pharmaceutical companies and research institutes play a crucial role in facilitating access to the right to health. Under international law, they have a responsibility to respect human rights which requires them, among other things, to ensure that their COVID-19 vaccines are accessible and affordable to as many people as possible. Two weeks ago a group of UN human rights experts called on governments to stop hoarding  vaccine supplies, and on pharmaceutical companies to share their innovations to ensure everyone can access tests, treatments and vaccines for COVID-19.