In-conversation event with Syria expert Robin Yassin-Kassab - London, Wed 20 Jan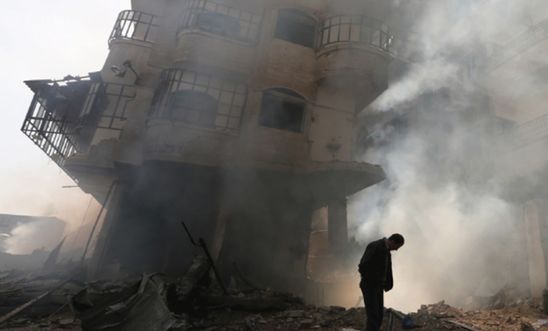 Burning Country charts Syria's descent into bloody conflict
On Wednesday 20 January (7pm) Amnesty International is holding an in-conversation event with the author and journalist Robin Yassin-Kassab, a leading expert on the conflict in Syria.
Mr Yassin-Kassab, the co-author (with Leila Al-Shami) of the acclaimed new book Burning Country: Syrians in Revolution and War (2016), will be in conversation with Kristyan Benedict, Amnesty International UK's Syria Campaign Manager. 
Burning Country explores the horrific and complicated reality of life in present-day Syria, and has been praised as "indispensable for those who wish to know the truth about Syria".
The event will explore the history of the five-year descent of Syria's uprising into bloody conflict, as well as the rise of ISIS and the present refugee crisis. 
Mr Yassin-Kassab is a regular commentator on Syria and the Middle East in the UK and international media, and is the author of the novel The Road From Damascus (2008) and a contributor to the collection Syria Speaks: Art and Culture from the Frontline (2014). 
Kristyan Benedict has led Amnesty International UK's campaigning work on Syria and the wider Middle East crisis for the past five years, organising numerous initiatives and events. 
Event details: 
Who: Robin Yassin-Kassab and Kristyan Benedict 
What: in-conversation event, followed by Q&A and an informal drinks reception
Where: Human Rights Action Centre, Amnesty International UK, 17-25 New Inn Yard, London EC2A 3EA (Shoreditch)
When: Wednesday 20 January, 7.00-8.30pm (doors open at 6:30pm)
Cost
: event is
free
, though please reserve your seats
here
Burning Country: Syrians in Revolution and War (Pluto Press, 226pp) will be available to buy on the night, priced £10 (normal price £14.99).