China: Wan Quanzhang's freedom an 'illusion' until government lifts ruthless restrictions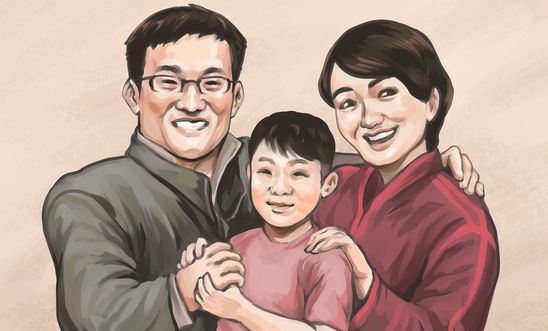 An illustration of China human rights lawyer Wang Quanzhang and his family
Chinese human rights lawyer Wang Quanzhang has been released after four and a half years in prison but has been barred from returning to his family in Beijing.
Amnesty International today expressed concerns at the 'illusion of freedom', warning he is likely to be kept under constant watch by the authorities and restricted from travelling freely.
Wang Quanzhang was arrested in 2015 for "subverting state power", as part of a mass crackdown in which nearly 250 human rights lawyers and activists were targeted by the Chinese government.
Police yesterday threatened Wang Quanzhang's sister, asking her not to pick him up from prison. His family only know he is being sent back to Ji'nan for a 14-day quarantine due to an outbreak of COVID-19 at a prison in Shandong province. They have no details about his condition or whether he is being monitored by the police.
Doriane Lau, Amnesty International's China Researcher, said:
"There are reasons to fear that Wang Quanzhang's release from prison offers merely the illusion of freedom. The Chinese government has a history of monitoring and controlling human rights defenders even after they're released from jail.
"Today may mark the end of Wang Quanzhang's unjust imprisonment, but the politically motivated campaign against him is only likely to enter a new phase. Despite his release, he will be subject to heavy surveillance and unable to return to the home where his wife and young child have been waiting for him for four and a half years.
"Wang Quanzhang was targeted by the government for his work defending human rights and helping to expose corruption. It is an outrage that he was ever jailed in the first place, but now he has served his sentence the authorities must immediately lift all restrictions on him and allow him to return to his family home." 
Sentenced on spurious charges
It was only in July 2018 that a lawyer informed his family that Wang was alive and being held in Tianjin. After an unfair trial, he was sentenced in January 2019 to four and a half years in prison on spurious charges of "subverting state power".
Wang Quanzhang's wife and son were not allowed to visit him until June 2019, almost four years after he was detained.
There are serious concerns that he was subjected to torture and other forms of ill-treatment during his incarceration. His wife Li Wenzu, who has faced constant harassment and surveillance since 2015, described him as a "totally changed man" after their meeting last year.
Activists and lawyers targeted in 2016 crackdown
Before his detention, Wang Quanzhang worked on issues considered sensitive by the Chinese government, such as defending religious freedom and representing members of the New Citizens' Movement, a network of grassroots activists who promoted government transparency and exposed corruption. Due to his role in representing such cases, Wang faced frequent intimidation prior to his detention.
Many activists and lawyers targeted in the 2015 crackdown were subject to heavy surveillance and deprived of freedom of movement after they were released from prison or detention. Human rights lawyer Jiang Tianyong went missing immediately after finishing a two-year prison sentence. He was subsequently sent back to his hometown, where he and his family were closely monitored and followed by the authorities.