China visit: Xi Jinping's remarks on human rights should be acted on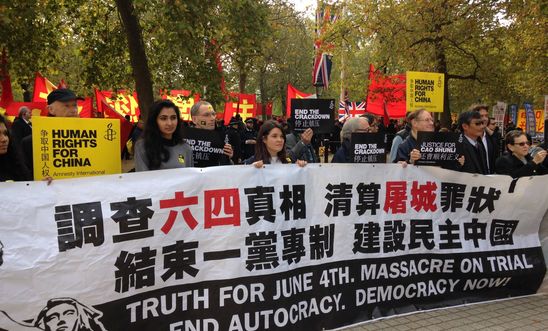 China's deplorable human rights record has been a running issue during Xi Jinping's visit © Amnesty International
Responding to comments made by the Chinese President Xi Jinping today at a news conference where he said that there is "room for improvement" in China's human rights record and that China "is ready to increase co-operation with UK and other countries over human rights", Amnesty International UK Director Kate Allen said: 
"This is a welcome comment from Mr Xi, but also of course a considerable understatement.

 

"With more executions taking place in China than the rest of the world put together, with lawyers and human rights activists being arrested and disappeared, and with even the most modest forms of dissent being severely punished, the Chinese president should be promising wholesale human rights reform. 

 

"Mr Xi should now move from rhetoric to reality on human rights. He can demonstrate his sincerity by immediately releasing the jailed Nobel Peace laureate Liu Xiaobo and the human rights lawyer Wang Yu, as the first in a wider set of much-needed prisoner releases.

 

"We'd like to see David Cameron taking Mr Xi at his word about being prepared to work with the UK to improve his country's improve its human rights. Mr Cameron's officials should seize this opportunity with the same urgency with which they've recently seized trading opportunities with China."
Yesterday Amnesty and other human rights organisations staged a demonstration alongside The Mall in central London over human rights abuses in China at the start of Xi Jinping's state visit to the UK.