China: Social media campaign targets Apple over privacy betrayal for iCloud users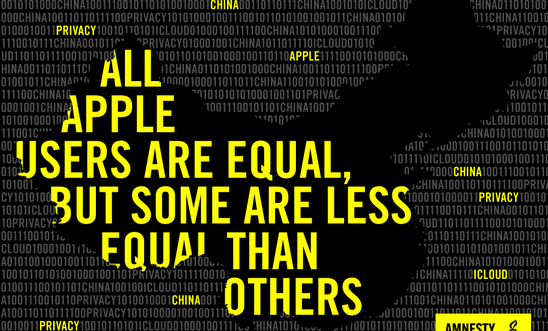 Amnesty International is launching a new social media campaign targeting Apple over its betrayal of millions of Chinese iCloud users by recklessly making their personal data vulnerable to the arbitrary scrutiny of the Chinese government.
Last month, Apple transferred the operation of its iCloud service for Chinese users to Guizhou-Cloud Big Data. The move affects any photos, documents, contacts, messages and other user data and content that Chinese users store on Apple's cloud-based servers.
In response, Amnesty's online campaign urges consumers to tell Apple CEO Tim Cook to reject double standards when it comes to privacy for Chinese customers, whose personal data is now at risk of ending up in the hands of the government.
In a nod to Apple's iconic '1984' advert, the campaign takes an Orwellian theme with the line 'All Apple users are equal but some are less equal than others'. The campaign launches as Tim Cook touches down in Beijing this week to co-chair a prestigious business forum.
Nicholas Bequelin, East Asia Director at Amnesty International, said:          
"Tim Cook is not being upfront with Apple's Chinese users when insisting that their private data will always be secure. Apple's pursuit of profits has left Chinese iCloud users facing huge new privacy risks.

"Apple's influential '1984' ad challenged a dystopian future, but in 2018 the company is now helping to create one. Tim Cook preaches the importance of privacy but for Apple's Chinese customers' these commitments are meaningless. It is pure doublethink.

"By handing over its China iCloud service to a local company without sufficient safeguards, the Chinese authorities now have potentially unfettered access to all Apple's Chinese customers' iCloud data. Apple knows it, yet has not warned its customers in China of the risks."  
Risk of arrest and imprisonment       
On 1 February this year, Amnesty wrote to Apple raising our concerns about the changes and asked the company to provide further information. Apple has yet to respond to the request. 
New Chinese legislation enacted in 2017 requires cloud services to be operated by Chinese companies, meaning companies like Apple must either lease server space inside China or establish joint ventures with Chinese partners.
Chinese domestic law gives the government virtually unrestricted access to user data stored inside China without adequate protection for users' rights to privacy, freedom of expression or other basic human rights.
As a result, Chinese internet users can face arrest and imprisonment for merely expressing, communicating or accessing information and ideas the authorities do not approve of.
Tim Cook will be in Beijing on 24-26 March to co-chair the China Development Forum, which aims to foster relationships between the Chinese government and global business leaders. Apple reported record revenues of £12.7 billion ($17.9 billion) for Greater China in the last quarter.
Nicholas Bequelin said:
"While Apple may claim it treats its customers equally, some are less equal than others. Profits should never threaten privacy. It's time for Apple to 'Think Different' when it comes to the privacy of its millions of Chinese customers.

"Apple needs to be much more transparent about the risks to privacy posed by recent changes to the iCloud service in China."
Apple's 1984 advert
Directed by Ridley Scott, Apple's 1984 advert of the same year is considered to be one of the greatest TV commercials of all time. Scores of grey-clad clones are fixated on a giant screen as Big Brother celebrates "Information Purification Directives". An athletic woman in bright clothes storms past troops to take a sledge-hammer to the screen unleashing an explosion. A voice over says "On January 24th, Apple Computer will introduce Macintosh. And you'll see why 1984 won't be like '1984'."