Children's books highlighting global refugee crisis win Amnesty CILIP Honours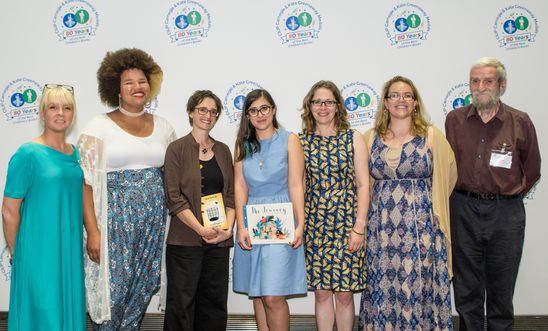 Two books that address the global refugee crisis have won the Amnesty CILIP Honour, an additional commendation attached to the CILIP Carnegie and Kate Greenaway Medals for outstanding children's writing and illustration.
Zana Fraillon's powerful 'The Bone Sparrow' – which highlights the plight of Burma's Rohingya people and life inside a detention centre in Australia – has won the Honour in the CILIP Carnegie Medal category.
And Francesca Sanna's 'The Journey' – which tells the story of a family forced to flee their home because of war – has won the Honour in the CILIP Kate Greenaway category.
Both books tell the stories of families displaced from their homes and detail their struggles with their new lives in a troubled and fractured world.
Today also marks the start of Refugee Week in the UK, which encourages people in communities across the country to celebrate the contribution that refugees make to life in the UK.
Zana Fraillon said:
"I wrote 'The Bone Sparrow' so we wouldn't forget the people and the stories behind the statistics and asylum seeker policies. I wrote it so that we would listen to, and really hear, all those silenced voices. This is something that Amnesty International does every single day. They hear the voices of those who have been silenced and they listen. I am so very proud to have been given this honour, and to have my book recognised by such an inspiring organisation."
Francesca Sanna said:
"I think that books are a powerful tool to raise awareness for human rights, to encourage empathy for those stories that feel very different and far away from our reality. Stories take us to unexpected places, they make us feel what it might be like to walk in somebody else's shoes. Amnesty International stands for justice, equality and respect for human rights, and knowing that 'The Journey' has been awarded makes me feel particularly overwhelmed and honoured."
The Amnesty Honour commendations are awarded to the two books on the CILIP Carnegie and Kate Greenaway shortlists that best illuminate, uphold and celebrate human rights.
Kate Allen, Director of Amnesty UK, said:
"These books are vital at a time when we are facing a global human rights crisis on an unimaginable scale, highlighting the realities faced by millions living as refugees. The power of children's literature to shine a light humanely can have a lasting and significant impact on young readers and help develop compassion for those affected. I'd like to offer my congratulations to both authors from all at Amnesty for their moving and inspirational work in raising vital human rights issues."
Bali Rai, author and one of the Honour judges in the Carnegie category, said of 'The Bone Sparrow':
"The book makes you cry, it makes you think, it makes you angry. It has great potential for doing good in promoting and illuminating human rights. It's an important story in bringing to the fore issues we're not aware of, such as detention camps and the treatment of the Rohingya people."
Ross Collins, Honour judge and winner of last year's first Amnesty CILIP Honour for his book 'There's A Bear on My Chair', said of 'The Journey':
"What Francesca Sanna has achieved with 'The Journey' is really quite extraordinary. Francesca brings light, colour and style to the most difficult of imagery, and shows us the family's plight with warmth and subtlety. Ultimately it is a tale of hope over adversity which will not only open new doors for young readers, but enchant them with its beauty."
The Amnesty CILIP Honour is the result of a major human rights partnership between Amnesty and CILIP, the libraries and information association. The Amnesty CILIP Honour is supported using public funding by Arts Council England.
The winners of the 2017 medals were Ruta Sepetys with 'Salt to the Sea' (CILIP Carnegie Medal) and Lane Smith with 'There is A Tribe of Kids' (CILIP Kate Greenaway Medal). The winners were announced today at a gala event in London's Royal Institute of British Architects.