Chechnya: new LGBTI crackdown is 'spine-chilling'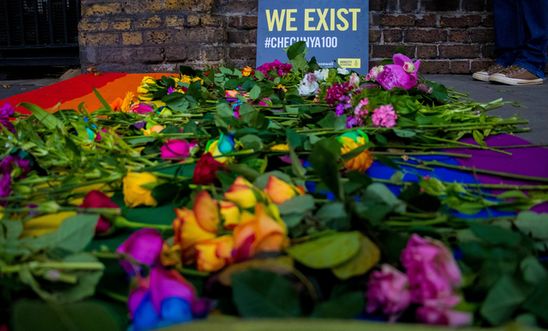 Flowers left outside the Russian Embassy in London after a joint Amnesty/Stonewall protest against the LGBTI crackdown in 2017 © Jon Cornejo
'We are horrified by reports that at least two people have died from torture-inflicted injuries' - Marie Struthers
Amnesty International has received credible information that the authorities in the Russian republic of Chechnya have unleashed a new wave of attacks on people believed to be gay or lesbian. 
At least two people are reported to have been tortured to death since December.
According to confidential sources, the authorities have also destroyed some victims' passports to prevent them from leaving the country.
The Russian LGBT Network has verified reports that the Chechen authorities have detained around 40 individuals in a government building in the city of Argun, where they have been subjected to torture and other ill-treatment. 
The Network first received reports about new abductions of gay and lesbian individuals in Chechnya on 28 December, and has now been able to verify the information. The organisation, which has helped dozens of gay and lesbian people escape from Chechnya over the past two years, estimates that around 40 people are currently in detention.
Marie Struthers, Amnesty International's Eastern Europe and Central Asia Director, said:
"News that the authorities have resumed the crackdown is absolutely spine-chilling.

"We are horrified by reports that at least two people have died from torture-inflicted injuries.

"Many LGBTI people in Russia are still traumatised by the 2017 purge which saw dozens of gay men in Chechnya abducted and tortured, and others killed.

"The lack of official investigation has emboldened the Chechen authorities to launch a new wave of persecution.
 
"With lives in jeopardy, there is an urgent need for an international response to protect gay and lesbian people in Chechnya.

"We are calling for the international community to take immediate action to protect gay and lesbian people in Chechnya, and to increase pressure on the Russian authorities to properly investigate these horrendous crimes." 
Russia has failed to act
The Organisation for Security and Cooperation in Europe recently published a report on Russia's refusal to cooperate or respond to calls for an investigation into the 2017 crackdown. So far, no genuine official investigation has taken place, and not a single person has been held to account for the atrocities committed.