Central African Republic: International Peacekeepers Have Failed To Prevent Ethnic Cleansing of Muslim Civilians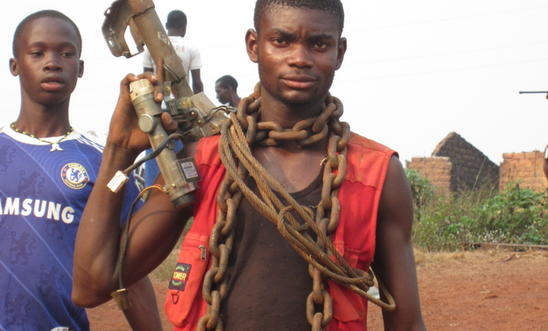 An anti-balaka militia member © Amnesty International
International peacekeepers have failed to prevent the ethnic cleansing of Muslim civilians in the western part of the Central African Republic according to an Amnesty International report issued today.
 
The report found that international peacekeeping forces must break the control of the Christian militas known as the 'anti-balaka' and station sufficient troops in towns where Muslims are threatened in order to protect the country's remaining Muslim communities.
 
International forces have failed to swiftly deploy to these areas to protect civilians and have allowed anti-balaka militias to assert themselves. As a result, further violence now threatens to spread across the Central African Republic.
 
Joanne Mariner, Senior Crisis Response Adviser at Amnesty International said:
 
"Anti-balaka militias are carrying out violent attacks in an effort to ethnically cleanse Muslims in the Central African Republic.

"The result is a Muslim exodus of historic proportions.
 
"The urgency of the situation demands an immediate response. It is time for the peacekeeping operation in the Central African Republic to protect the civilian population, deploy to threatened areas, and stop this forced exodus."
 
In recent weeks, Amnesty has recorded over one hundred first-hand accounts of large-scale anti-balaka attacks on Muslim civilians in the Central African Republic's northwest towns of Bouali, Boyali, Bossembele, Bossemptele, and Baoro.
 
 "They killed my children heartlessly," said Oure, a Muslim woman whose four sons were killed by anti-balaka fighters on 26 January.  "The children were slaughtered in front of our eyes, both my children and my sisters' children."
 
 
The most lethal attack documented by Amnesty took place on 18 January in Bossemptele, where at least 100 Muslims were killed. Among the dead were women and elderly men.
 
International troops had failed to deploy to these towns leaving civilian communities without protection.
 
In December, international concern over the sectarian nature of the violence in the Central African Republic led to the UN Security Council deploying peacekeeping forces to the country. Those forces included about 5,500 African Union troops and 1,600 French troops. They were stationed within Bangui and to several towns north and southwest of the capital.
 
Amnesty has documented unlawful killings, forced displacement, destruction of homes, massive looting, and other serious abuses in the Central African Republic.
 
Some of these abuses amount to war crimes and crimes against humanity.
 
Amnesty International is calling for urgent action from international peacekeeping forces to protect the Muslim community in the Central African Republic and put an end to the attempted ethnic cleansing.