Cambodia: overcrowded prisons are 'ticking time bomb'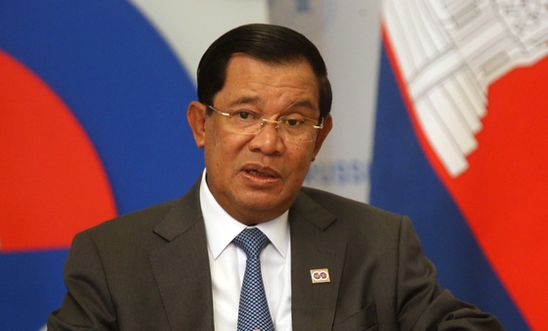 Prime Minister Hun Sen has reportedly labelled people 'terrorists' for criticising the Government's response to the coronavirus crisis © Getty Images
Coronavirus could sweep through squalid prisons and drug 'rehabilitation' centres
 
Country's largest jail five times over capacity, with prisoners sleeping on their sides
 
Authorities reportedly 'working with Facebook' in crackdown on critics of Government's response to the crisis
 
Overcrowded, squalid prisons and detention centres risk becoming detonators for a major COVID-19 outbreak in Cambodia that will make the pandemic much harder to control, said Amnesty International, amid a mounting crackdown on people detained for "causing scares" by talking about the outbreak on social media.
 
According to Government data, Cambodia's prisons held 37,000 people at the end of 2019 despite having an estimated capacity of 26,593. As of January, Cambodia's largest prison - Prey Sar, in the capital Phnom Penh - held over 10,000 prisoners, making it approximately five times over capacity.
 
Up to 40% of all prisoners are in pre-trial detention, and thousands are held for minor, non-violent offences such as use or possession of drugs. The national prison population has increased by 70% since the end of 2016 as a result of a punitive anti-drugs drive.
 
Both in prisons and other detention centres, overcrowding, inadequate nutrition and poor sanitation mean that thousands of detainees in Cambodia suffer from health problems, putting them at particular risk during the pandemic. 
 
Sreyneang*, a woman who was released from the CC2 women's and minors' facility in Prey Sar last November, told Amnesty:
 
"The sleeping space for me and my one-year old son was only about 30 or 40 centimetres width across. It was so tight. If I slept on my side, my son could sleep on the floor. If I slept on my back, he had to sleep on top of me."
Overcrowding in drug detention centres
Every year, thousands of people suspected of using drugs, homeless people, sex workers and people with mental illnesses are arrested in drug raids and "city beautification" sweeps, and detained in "social affairs" and "drug rehabilitation" centres around Cambodia. These centres have faced sustained criticism over the years - including allegations of torture, forced labour and sexual violence.
 
Thousands of people are currently held in so-called drug "rehabilitation" and "social affairs" centres. While the total population in Cambodia's drug detention centres is not made public, information received by Amnesty suggests that overcrowding inside these centres is as severe as in prisons.
 
Maly*, a sex worker who was detained for five months at Orkas Khnom, a drug detention centre in Phnom Penh, after she was arrested in a street sweep in 2019, told Amnesty of the severe overcrowding she experienced:
 
"Sixty people were in my small room and it was so tight that we could not even move or lie down flat when we were sleeping. We had to press against each other on our sides."
 
(*Pseudonym used in interests of interviewee's security).
 
Nicholas Bequelin, Amnesty International's Southeast Asia Regional Director, said:
"Cambodian prisons and drug detention centres are dangerously overcrowded and lack even the most basic health services.
 
"They are a ticking time bomb for the country and potentially its neighbours.
 
"The inhumane conditions in Cambodian jails and other detention centres make it impossible for detainees and staff to take preventive steps, including physical distancing and isolation.
 
"These conditions were never acceptable, and now they risk lighting a fuse for what could quickly become dramatic and exponential levels of community transmission of COVID-19." 
'False information' arrests
At least seven people in Cambodia have recently been charged and sent to pre-trial detention amid a crackdown on "false information" related to COVID-19. Six of these have been activists or members of the banned opposition Cambodia National Rescue Party. In total, at least 22 people have been arrested in relation to sharing information about the virus since January - the majority have been released without charge after signing pledges to refrain from spreading "false information" online.
 
On 5 March, Ouk Kimseng, an Information Ministry spokesperson, reportedly claimed that "ill-intentioned people are spreading fear among people, causing scares among citizens. Prime Minister Hun Sen considers them as terrorists. These people are problematic to our society … We are working with Facebook and tracking individuals or groups to take action against them."
 
On Wednesday this week, Hun Sen said he was considering declaring a national state of emergency, threatening to restrict human rights.
 
Nicholas Bequelin added:
"The Cambodian Government appears more focused on using this pandemic to silence its critics rather than protecting its people and their right to adequate healthcare."
Coronavirus pandemic and prisons
In response to the COVID-19 pandemic, governments across the world - including Ethiopia, Bahrain and Iran - have taken decisive action to ease overcrowding in places of detention by releasing those held on politically-motivated grounds, on minor and non-violent charges, pre-trial detainees and people with underlying health conditions.
 
Amnesty is urging all governments to review the need for continued custodial detention in order to safeguard the health of people in detention, prison staff and the general population. Governments should consider whether prisoners qualify for parole, early or conditional release, or other alternative non-custodial measures. They must fully take into account individual circumstances and the risks posed to specific groups of prisoners, such as older people or those with serious medical conditions, including those with a weakened immune system.
 
Given the spread of transmissible diseases is a public health concern, especially in the prison environment, it is desirable that, with their consent, all detainees have access to free COVID-19 screening tests, including those who are scheduled for early release. For those who remain in detention or prison, the authorities must provide a standard of healthcare that meets each person's individual needs and ensures the maximum possible protection against the spread of the virus.