Cambodia: 64 NGOs call for land activist Tep Vanny's release from jail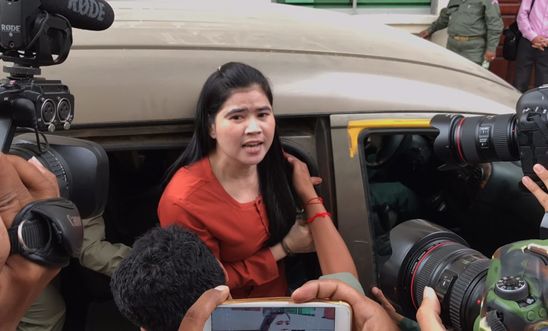 Amnesty International and 63 other organisations are demanding the release of the Cambodian human rights activist Tep Vanny today on the one-year anniversary of her arrest on trumped-up charges.
In a joint statement, the organisations highlight how Tep Vanny was arrested on 15 August 2016 after taking part in a protest calling for the release of five human rights defenders. Once in prison, the authorities reactivated dormant charges from 2013 and she was eventually handed a two-and-a-half-year prison sentence.
The full joint statement is available here.
Josef Benedict, Amnesty International's Deputy Campaigns Director for Southeast Asia and the Pacific, said:
"Tep Vanny has now languished in prison for one year for doing nothing but peacefully defending her community. The charges against her have always been spurious at best – she must be released immediately and unconditionally."
Tep Vanny is one of the most prominent human rights defenders in Cambodia and has been arrested at least five times since 2013. The authorities have recently stepped up a far-reaching crackdown on critics as the country gears up for a general election next year.
Josef Benedict said:
"The sweeping crackdown on any form of criticism in Cambodia must end immediately.

"Hardly a week goes by without news of another human rights defender or political activist being harassed, charged or imprisoned for their 'inconvenient' opinions. It is deeply troubling that courts in the country are being used to do the authorities' bidding."
Background
In February this year, Tep Vanny was sentenced to two-and-a-half years' imprisonment for her part in a peaceful land protest near the Prime Minister's house in Phnom Penh in 2013. Last week, the Appeal Court in Phnom Penh decided to uphold the sentence.
For almost 10 years, Tep Vanny has been defending the right to housing for her community at the former Boeung Kak Lake area, in central Phnom Penh. Tep Vanny has also supported activists from other communities who have been forcibly evicted or are at risk of eviction from their homes and land in Phnom Penh. As a result, she has become a symbol of peaceful activism in Cambodia.
For more information on Tep Vanny's case, click here.