Call for digital volunteers to help expose chemical attacks on civilians in Darfur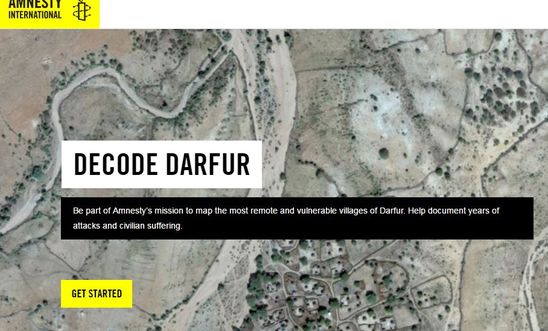 'This is an ambitious, revolutionary project that marks a fundamental shift in the way we view human rights research' - Milena Marin
Amnesty International has issued a call for digital volunteers across the UK to help uncover human rights violations and abuses in the conflict-ravaged Sudanese region of Darfur, as part of a revolutionary new crowdsourcing project.
The 'Decode Darfur' interactive platform enables Amnesty supporters to analyse thousands of square kilometres of satellite imagery in remote parts of Darfur where bombings and chemical weapon attacks are suspected to have taken place – just by using their phone, tablet or laptop.
Restrictions on access imposed by the government means no journalist or human rights investigator has been permitted to conduct any assessment in the region over the last few years. Despite these barriers, an Amnesty investigative report released last week uncovered harrowing evidence of the repeated use of suspected chemical weapons against civilians, including very young children, by Sudanese government forces in the Jebel Marra area of Darfur over the past eight months. Based on testimony from first responders and survivors, the organisation estimates that between 200 and 250 people died as a result of exposure to chemical weapons agents, many of them children.
Amnesty is now asking digital volunteers around the world to devote anywhere from five minutes to five hours, or more, to help build the evidence that will demonstrate, alongside the eyewitness and victim reports, that civilians have been systematically attacked in Darfur. There are thousands of hours' worth of data to sift through. Before they start decoding, participants will first be given a short tutorial on exactly what to look for.
Milena Marin, Amnesty's Senior Innovations Campaigner, said:
"This is an ambitious, revolutionary project that marks a fundamental shift in the way we view human rights research – and gives anyone with internet access the chance to help expose some of the world's gravest injustices.

"There is a huge mass of terrain in Darfur where we have information suggesting grave human rights violations have taken place, but analysing this data is a long and laborious task. That's why we are harnessing the power of our huge network of supporters to help."
The Decode Darfur project will initially be split into two phases. For the first six weeks, participants will help to map a remote, largely barren landscape to locate villages vulnerable to attack in the East Jebel Marra area of Darfur. In phase two, they will compare before-and-after images of the villages to pinpoint which ones have been destroyed.
The tool used on the Decode Darfur platform has a built-in verification mechanism – meaning that each image will be shown to a number of different decoders, and will be treated as verified when they agree on what they have seen. Amnesty researchers will also do random checks on the data to ensure its quality and veracity.
 
Volunteers can get involved at http://decodedarfur.org