Calais: 'Jungle' demolitions must not bulldoze refugee rights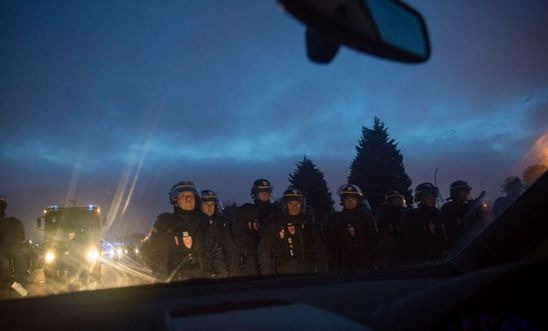 French police blocking the route to the Jungle camp last month © Richard Burton/Amnesty International
'Although it's taking place across the Channel, this is not an issue that the UK can wash its hand of' - John Dalhuisen
Responding to the French authorities' demolition of part of the "Jungle" refugee camp at Calais in northern France today following a court-awarded eviction order last week, Amnesty International's Europe and Central Asia Director John Dalhuisen said:
 

"As the demolitions of the Calais 'Jungle' start, the French authorities must ensure that they don't bulldoze through the rights of refugees and migrants, many of whom are likely to be extremely vulnerable.

 

"While the current situation in Calais is clearly unsustainable, evictions are no solution to a crisis on which the French and British governments have turned their backs for years. 

 

"The authorities need to look at this situation holistically: not just out of concern for border-management, housing and hygiene. Each of these individuals has needs and rights that must be protected.

 

"The French authorities must ensure those evicted are meaningfully consulted and that all their options are considered. This includes facilitating access to asylum proceedings in France and visas to the UK for those with family members there, or other good grounds for admission. 

 

"Although it's taking place across the Channel, this is not an issue that the UK can wash its hands of."  
Amid scenes of violence, up to 200 residents are currently affected, with further demolitions expected in the next few weeks until the camp is cleared.