Brazil: Two years after killing of Marielle Franco unanswered questions still remain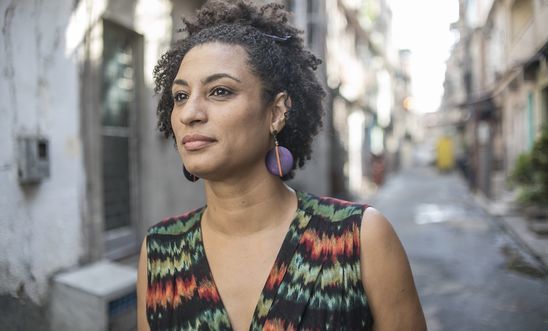 Marielle was murdered in a drive-by shooting in March 2018
'When a human rights defender is silenced, the rights of all people are threatened' - Jurema Werneck
Two years since the fatal shooting of Rio de Janeiro city councillor Marielle Franco and her driver, Anderson Gomes, and Amnesty International is increasing its pressure on the Brazilian authorities to solve the case.   
Marielle was murdered in a drive-by shooting in March 2018. Her killers and those behind the plot to assassinate her have still not been brought to justice.
Since her murder, more than 983,000 people worldwide have signed Amnesty's petition calling for truth and justice for Marielle.
Ahead of the second anniversary of her death, Amnesty requested new meetings with the Governor of Rio de Janeiro and the State Attorney General to renew the global pressure on them to provide answers. The meetings are currently scheduled to take place Friday 13 March.
Marinete da Silva, Marielle Franco's mother, said:
"We cannot avoid pleading, fighting and calling for justice for Marielle, who worked to build a better life for people. And we cannot sit still, without finding out who ordered the killing of Marielle Franco and why."
Jurema Werneck, Executive Director of Amnesty International Brazil, said:
"Two years is too long to wait. The lack of solid results in identifying those who ordered the assassination, or clarifying the circumstances of the crime demonstrates that human rights defenders can be killed in Brazil and that these crimes go unpunished.
"When a human rights defender is silenced, the rights of all people are threatened.
"We know the investigation is being undertaken under strict secrecy, but transparency is not the same thing as telling secrets. Marielle's and Anderson's families, as well as society as a whole, have the right to know what has been done and what progress has been made in the investigation."
Investigation remains shrouded in secrecy
On 12 March last year Brazilian police arrested two men over the killing of Marielle and Anderson. The following month, Amnesty and Marielle Franco's family met with the Governor of the State of Rio de Janeiro and the State Attorney General who promised to progress and conclude the investigation, and guaranteed speed, independence and transparency.
One year since this meeting and the investigation into Marielle's death remains shrouded in secrecy with little progress surrounding the killings, who ordered them, and why. 
Monica Benicio, the widow of the murdered councilwoman, said:
"It's been two years of great pain and struggle. To transform the grief into a struggle was not only a way to stay alive without my partner, but also a way of understanding that fighting for justice for her murder is a way of honouring her struggle as a human rights defender to ensure that nothing like the barbaric violence against her takes place ever again.
"The message that the Brazilian state is sending to the world is that some lives matter more than others and that this can happen again because there is impunity for those who kill a black, LGBTI woman from an impoverished background. How many more Marielles must die in Brazil?"
Most dangerous region in the world for human rights defenders
Amnesty's 2019 annual report on the state of human rights in the Americas found Latin America to be the most dangerous region in the world for human rights defenders. In the last year Brazil has seen public authorities putting anti-human rights rhetoric into practice through administrative and legislative measures that have tangible effects restricting and violating people's rights.
Amnesty's Brave campaign was launched in response to the unprecedented surge and global scale of attacks on human rights defenders and calls on the UK Government to prioritise its work to support human rights defenders.